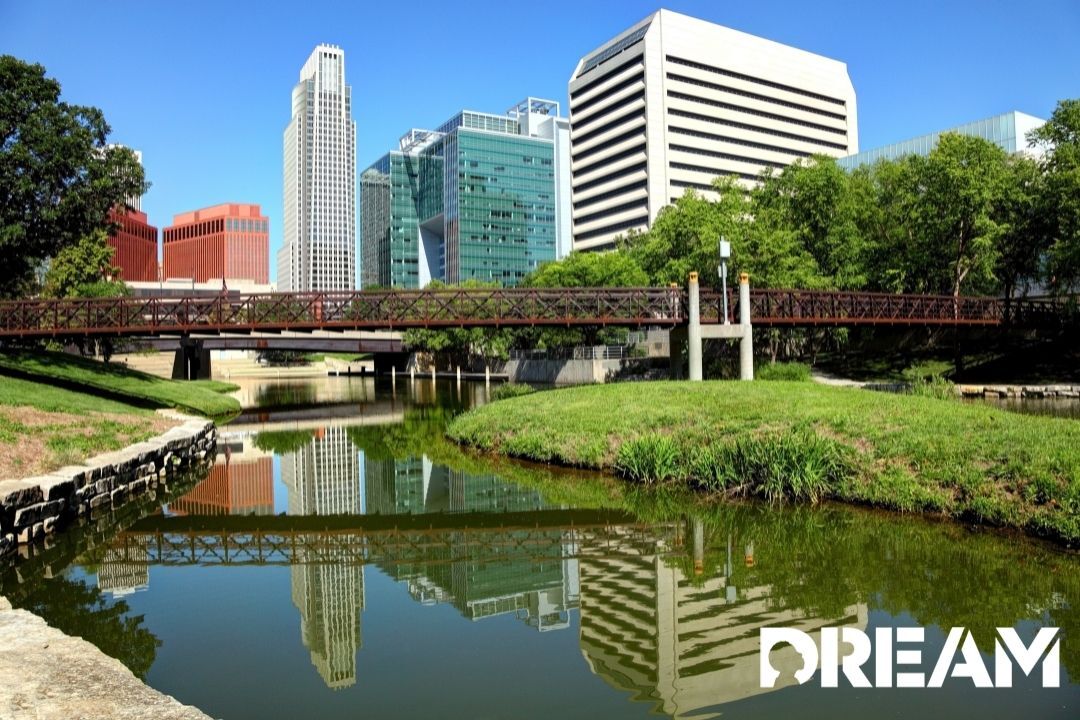 The weather has been nice for quite a bit now. If you need something for you and your kids to do, one of the below activities is sure to suffice! You can also consider enrolling your child in DREAM's youth mentoring programs.
Play at the new Gene Leahy Mall at RiverFront Park
The Gene Leahy Mall is the first of the three parks within RiverFront park. The Heartland of America Park and Lewis and Clark Landing will soon be finished, providing even more outdoor activities for those in the Omaha area. The Gene Leahy Mall is located between Farnam and Douglas and spans from 8th to 13th streets in downtown Omaha. There is lots of art, a green space, hammocks, fire pits, seating, a playground and even a dog park.
Have a picnic in Elmwood Park
Elmwood Park is located in Aksarben. The north side begins on Leavenworth and extends to Center Street on the south side, and it spans from 50th to 72nd streets. There are playgrounds, picnic areas and tons of space for your kids to play.
Walk across the Bob Kerrey Pedestrian Bridge
The Bob Kerrey Pedestrian Bridge, also called "The Bob," lets you walk from Nebraska to Iowa in a short amount of time. It's located just off Riverfront Drive in downtown Omaha. You can walk or ride bikes across the bridge.
Hike through Fontenelle Forest
Fontenelle Forest is a nature preserve located in Bellevue, NE. It's filled with hiking trails, has a nature center and picnic areas and they also host children's camps. You should also check out the KidRush Adventure Park and TreeRush Adventure Park, where you can swing above the trees on ziplines.
Drive through the Nebraska Wildlife Safari
The Nebraska Wildlife Safari is located in Ashland, NE. It's a four-mile drive-through adventure. You can also hike and explore on foot. See wildlife like bison, elk, bears, wolves, pelicans and other birds.
Visit the new Kiewit Luminarium
The Kiewit Luminarium opened on April 15th. It features more than 100 interactive exhibits for everyone of any age or background to take part in. Learn more about light, motion and sound, turn gears, explore your cells, climb into shapes and more!
Fly a kite
Nice weather just makes you want to get outside! Memorial Park, located between Dodge and Cass on 60th Street, is the perfect place to fly a kite. You can also head to Zorinsky Lake or Chalco Hills Recreation Area. If your backyard doesn't have too many trees, you can also try to fly a kite at home.
Plant flowers, fruits and vegetables
Get a little dirty and plant some flowers, fruits and vegetables in your backyard. Or see if you live near a community garden where you can help out. Your kids will love seeing a seed turn into a beautiful flower or something fresh and yummy to eat.
Go to a $5 movie on Tuesday
Tuesday is $5 dollar movies! Take your kids to see a movie in theaters for a discounted price. Most theaters in Omaha participate in this.
Walk through Lauritzen Gardens
Lauritzen Gardens has different exhibits from time to time, but it is always a great place to take your kids to walk around and be outside. It's open from 9 a.m. to 5 p.m. daily. There's also a children's garden and trails that run through the park.
Spend a day at the Omaha Zoo
The Henry Doorly Zoo recently underwent a ton of renovations. You can easily spend the entire day at the zoo. Spring is the perfect time to go because it's not too hot or too cold out.
Visit the Omaha Children's Museum
The Omaha Children's Museum always has fun and interactive exhibits for kids to take part in. It's located just off 20th Street in downtown Omaha. They also host summer camps. Take your kids and let their imagination grow.
Check out the Durham Museum
The Durham Museum sits right off 10th Street in downtown Omaha. It has different exhibits, but always has trains on display and an old school Soda Fountain and Candy Shop. It's all about preserving Western history.
Have some fun at the Omaha Public Library
Having a library card is cool, and it gets you into Lauritzen Gardens for free! The Omaha Public Library has fun events for kids such as Read to a Dog and Escape Rooms. Keep your kids reading during the summer!
Enroll in youth mentoring programs
DREAM provides youth mentoring programs throughout the summer. It can be easy for kids to get sucked into their iPads and video games during spring break and the summer when they don't have things to do. We hope some of these above ideas will keep them busy and engaged! Contact us today to learn more about our programs!