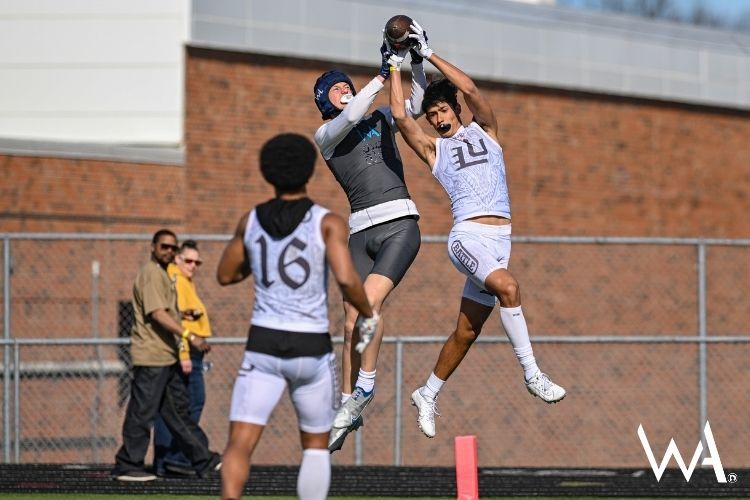 The football offseason is well underway for many athletes. As we move closer to the end of the year, we are only a few weeks away from our Warren Academy 7v7 tryouts!

We will be holding tryouts for our 14/15u teams on Dec. 2 and for our 18u team on Dec. 3. Both tryouts will take place at the Omaha Sports Complex located off 147th and Giles in Omaha, Nebraska, with check-in starting at 7:45 a.m.

7v7 is a great opportunity for athletes to continue to compete throughout the offseason, improve their skills and get seen by many college-level coaches. Below, we go over what 7v7 is and why it's beneficial for football athletes who are aspiring to play at the next level.

What is 7v7?
7v7 is a fun yet competitive way for football athletes to continue playing the game they love during the offseason. With only 7 players on each side of the ball, 7v7 is great practice for quarterbacks, running backs, receivers, tight ends, defensive backs and linebackers. During the offseason, there are many 7v7 tournaments across the country that bring together the top high school football athletes to compete against each other. This gives athletes who aren't playing a winter sport an opportunity to stay active in football throughout the offseason.

Benefits of 7v7

Recruiting exposure
A big benefit of playing on a 7v7 team during the offseason is the exposure to college coaches. Most of the 7v7 games and tournaments played are filmed, which allows athletes to create offseason highlight reels. Although college coaches themselves can't attend any tournaments, the more film they get to watch of you the better.

Repetition
One of the best ways to get better at anything is repetition. When you play on a 7v7 team, you will have practices and tournaments where you will be doing the same thing over and over and over again. With this repetition of game-like situations, athletes will better improve their awareness on the field and ultimately gain an entire offseason to perfect their fundamentals.

Competition
Travel 7v7 tournaments are great because athletes get to compete against others they usually don't get to compete against. At Warren Academy, our 7v7 teams play tournaments across the Midwest and other areas of the country. Not only does competition like this help athletes stay motivated throughout the offseason and look for ways to get better, but it also gives them an idea of how they compare to others in different areas across the country.

We are excited to get this 7v7 season started and would like to invite any player who is interested in coming to try out!