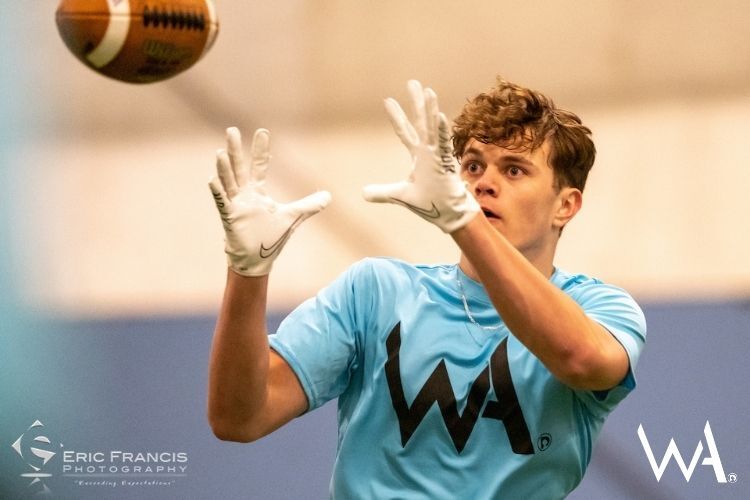 During an offseason, football athletes have one question they need to answer: how badly do they want to get better? The offseason is a perfect opportunity for any athlete of any skill level to improve their fundamentals, strength, speed and knowledge of the game. Are you willing to put in the work?
At Warren Academy, we are the premier offseason football training spot in Omaha. We have coaches who have played at the collegiate and professional levels and understand what elite coaching looks like and entails. Every offseason, we offer a variety of football training programs to help athletes from around our area improve their fundamentals, strength, speed, agility and love for the game. Below, we detail all of our offseason training programs!
Position Training
Throughout the entire winter, spring and summer, we offer position-specific training sessions to football athletes of all ages, levels and abilities. During these position training sessions, our coaches work with athletes in a small group setting and focus on developing fundamentals that will help them excel on the field at a high level.
Our position training sessions work with athletes of all positions. Whether you are a wide receiver, running back, quarterback, defensive back or linebacker, our coaches will help you improve both mentally and physically before the season starts this upcoming fall.
OL/DL Training
During the winter, we also offer an OL/DL academy that focuses on helping offensive and defensive linemen improve their technique and skill set. Battling play after play in the trenches is one of the toughest things to do in all of sports, and we have coaches who have done so at both the collegiate and professional levels. In our OL/DL Academy, we help athletes improve their strength, speed, agility, mobility and skill needed to fill gaps, finish blocks and make plays on the field. We also help educate our athletes on the importance of good nutrition and what this should look like for offensive and defensive linemen!
WA 7v7
This past December, we held tryouts for our offseason 7v7 travel teams. 7v7 has become a popular offseason program in recent years, and our teams will travel around the country to compete against some of the top talent in our area. Members of our 7v7 travel squad are mentored and coached by highly-qualified teachers of the game who have won Super Bowls, College National Championships and coached on several levels, including college and professional football.
Showcases and Camps
Lastly, during the offseason, we offer a variety of showcases and camps throughout the year. The focus of these events is to give athletes the opportunity to compete against others at a high level and in front of college coaches and media outlets. Our goal is to help athletes get seen by collegiate-level coaches, as well as help teach, train and support all of our athletes who participate. This past weekend, we held our Unsigned Senior and Top Prospect showcases, and they were a huge success!

During the winter, spring and summer months, our training programs are designed to help get football athletes ready for their upcoming season. If you are interested in learning more about any of our programs or would like to sign up for a session, feel free to contact us today!