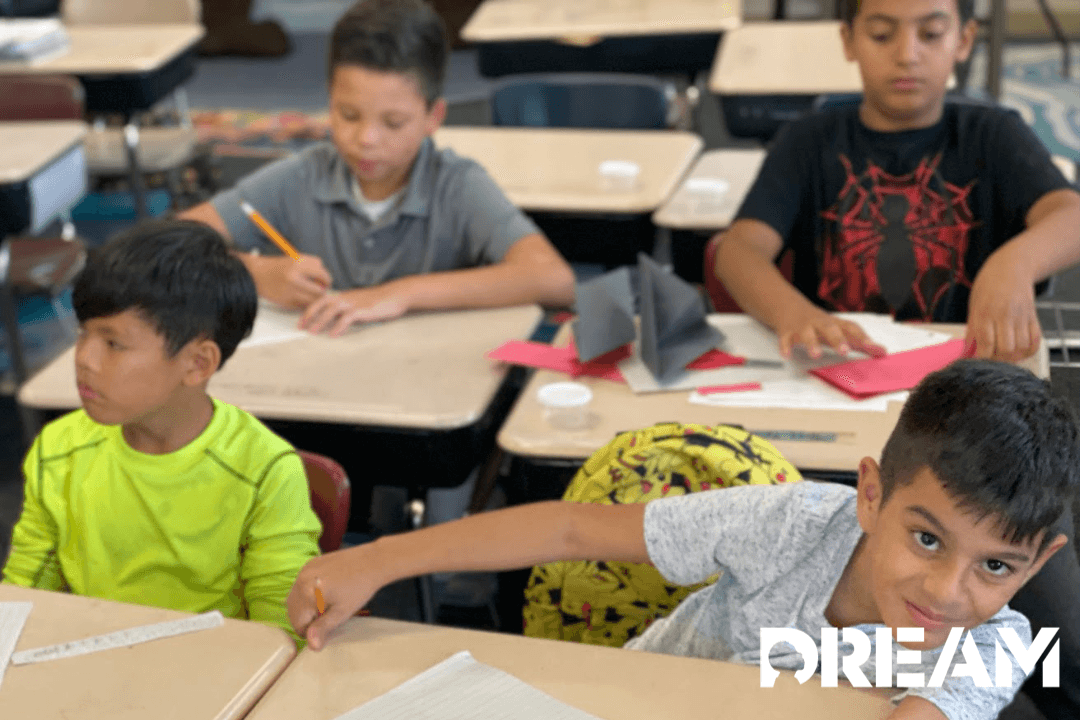 The "Back to School" signs are everywhere. Before you know it, you and your kids will be settling into the school year routine. There are many things that need to happen before you drop your kids off for their first day, from supply shopping to orientation and enrolling in after-school activities. It can be stressful, but you'll feel great once it's all said and done.
DREAM knows the after-school program benefits, and how kids in our participating schools can partake in programs such as mentoring, tutoring and athletics. We want to help you and your kids get accustomed to the upcoming school year, as well as offer after-school programs in which you can rest easy knowing your kids are in a safe environment and still learning. Below are some tips and tricks for starting the school year strong!
Create a positive mindset about going back to school
It's not uncommon for kids to be nervous about going back to school, especially if it's a completely new environment. Make the unknown familiar for them; meet the new teacher and tour the school and classroom before their first day. Encourage your child by reminding them that they get to see all their friends and have fun at school. This will help them feel more confident going into their first day!
Get a good backpack and organize it well
Another way to create some positivity about going back to school is to make supply shopping fun. It's important to have a great backpack with a padded back and shoulders. Help them organize their supplies in the backpack, and go through it with them weekly to ensure they're not carrying around any extra weight. Picking out a cool new backpack can be a great way to get your child excited about school.
Talk about bullying
Sadly, bullying is often inevitable. Bullying can be physical, verbal or social. Make sure your child knows what bullying is so that they understand if they're being bullied and how to avoid partaking in bullying. If your child is experiencing bullying, make sure you report it to the school so it can be handled properly.
Complete all your back-to-school check ups
With the fun of supply shopping, also comes the need for back-to-school doctor appointments. Many schools require physicals and certain vaccines. If your child takes any medication, make sure you have the prescription filled. You will probably need a dentist appointment as well. Check with your school and make sure you complete all the necessary back-to-school check-ups.
Make a new friend
If your child takes the bus to school, making a friend in the neighborhood to walk with or meet at the bus stop makes the morning more fun. It can also comfort them walking back into school with a friend by their side. Encourage them to talk to the new kids in their classroom, and when they ask if their new friend can come over to play, be sure to support that.
Ease into the routine
Using a calendar can help you stay on track. If your child participates in extracurricular activities, it can be helpful to have it pasted on the fridge where you both can see it. It's also time to get your kid into the routine of preparing their lunch for the next day and completing homework the night before. Before you know it, you'll be doing the back-to-school routine without even thinking about it.
Discover the after-school program benefits with DREAM
We want to make sure you and your children feel ready to head back to school. We know that a lot of parents have jobs that run longer than the school day, which is why we offer after-school programs. Our after-school program benefits include supervision and a safe and nurturing environment after school to keep your kids away from negative behaviors. If you're interested in joining DREAM, contact us today!