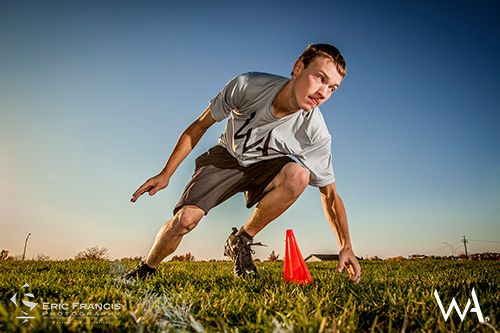 Speed and agility training is very important, even considered essential to athletes competing in a wide array of sports. As your athlete gets older, they won't always be able to sign up or walk onto a team as they did when they were younger. In middle school and high school, kids will often have to start trying out to make it onto the team they desire.
This is often the first time young athletes will feel the sting of rejection when being cut from the team. However, one of the best ways to ensure that your child does make the team and competes on a truly athletic level is by enrolling them in speed and agility training.
Having quick speed and being agile is all about being able to control your body. It also means that athletes must be coordinated and be able to make quick moves. This is important for all sports whether you are recovering a fumble, dribbling a ball up and down the court or performing a backflip on a mat.
Speed and agility training involves the increase in muscle power through both speed in starting and stopping function. Each exercise becomes faster with an explosive force behind each repetition, making speed training ideal for power lifters and athletes who run and perform agile movements.
There are many other benefits to speed and agility training that include reaction time, balance, and coordination. In addition, being quick with proficient speed and agility can build confidence that will lead to better performance. While young athletes are growing up, it's important to work on these skills, as building a solid foundation of athletic abilities and motor skills allows the child to develop sport specific skills in a balanced and healthy way.
Once your athlete establishes a foundation, they can enjoy their physical activity and progress in their sport as far as they choose to go. All of these aspects are important for all sports in their own way.
There's a lot of exercises in speed and agility training including: drills to increase motor skills and flexibility. This would include doing fast pace workouts such as speed drills, cone drills, ladder drills, flexibility workouts, etc.
It has been shown by the National Strength and Conditioning Association that exercise specialists suggest children between the ages of five and eight should be exposed to a variety of movement patterns, which include arm and leg movements performed from a stationary position, jumping moves and exercise that promote spatial awareness.
Skill mastery should be enhanced with speed and agility training between ages nine and 13. While children are playing sports for fun when they are younger, parents should realize that working on their children's speed and agility at younger ages may help their children become more involved and enjoy their sport much more as they get older.

DREAM, one of the Midwest's well-known youth mentoring organizations, provides life-changing and life-enriching experiences to at-risk youth through mentoring and after-school programs in Omaha, Nebraska, and Springfield, Missouri. Their proven approach puts children in a comfortable setting where they're encouraged to discuss openly, learn, and grow as individuals. Are you interested in getting involved with DREAM? Contact us today.