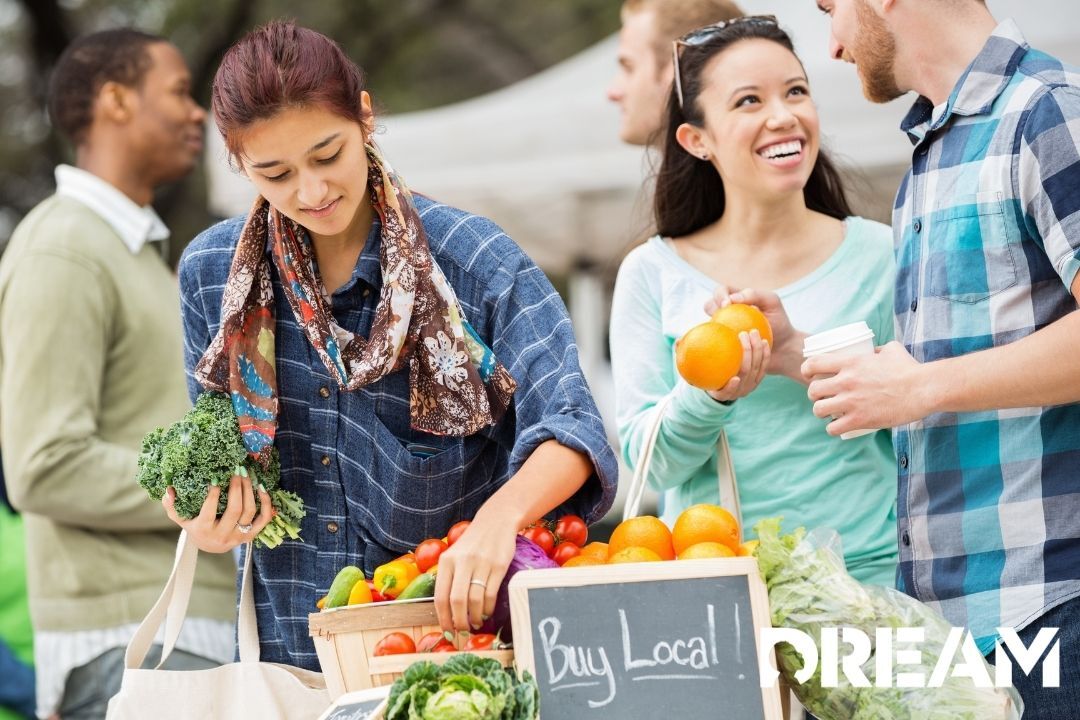 Looking for ways to get involved in your local community this spring? Whether you want to shop locally more often or start regularly volunteering, there are plenty of opportunities for you to get involved in the Omaha area! You can give back in small or large ways, any amount helps. Along with helping out with DREAM's mentoring programs in Omaha, NE, here are some other ways you can commit your time to doing good this spring!
Shop at local businesses
One of the best ways to give back to your community is to shop at local businesses. You can get almost everything you need from small, independent businesses rather than corporate shopping centers and stores. From soaps and flowers to foods, bookstores and clothing, shopping at small businesses in Omaha supports both the local community and economy.
Support local farmers
Another thing you can shop for locally is produce. It comes straight from farmers and is even You can find fresher and tastier produce when buying directly from local farmers compared to what you'll find at a larger grocery store. It's almost time for local farmers markets in Omaha, but even when those aren't around you can visit local produce stands and farms such as Wenninghoffs.
Recycle the right way
Everyone has a trash can with a green lid, but are we really recycling the right way? Many of us have good intentions but might be putting things in our recycling bins that aren't necessarily recyclable. Here's what you can recycle in Omaha!
Pick up trash in the neighborhood
You can take a little extra time out of your day and pick up trash where you see it in your neighborhood, or you can choose a day each week to go out and pick up litter. Benson and Little Bohemia in Omaha both have a few days each month when the community meets to clean up. Getting involved locally in something such as this can also be a great way to meet new people!
Volunteer with a local organization
There are countless ways to volunteer in Omaha, from volunteering with dogs, cats and other animals at the Nebraska Humane Society, to visiting seniors in nursing homes, donating to a food pantry, mentoring underprivileged youth and volunteering with Habitat for Humanity. Think of a cause you care about and research local organizations that support that cause and see how you can get involved.
Help out at a food bank
Food Bank for the Heartland is another great organization to volunteer with. You can volunteer during the week or on the weekends and help them put together boxes of food for families in need and more. There are several other food banks in Omaha, so you're more than likely to find a place to help out near you.
Walk or bike when you can
If you're going a short distance and the weather is permitting, try to walk or ride your bike when you can. If you're into longboarding or skateboarding, you can do that too; just be respectful. You can both reduce traffic and help the environment by doing this. It's very possible to live without a car.
Volunteer at mentoring programs in Omaha, NE
Another great way to get involved in your community is to help build the lives of the next generation. DREAM's mentoring programs in Omaha, NE, help kids succeed now and in the future, as well as give them a friend who can help them with a number of things. We hope you now have a bunch of ideas and inspiration to get involved locally and give back this spring. Contact us today to see how you can get involved with DREAM!