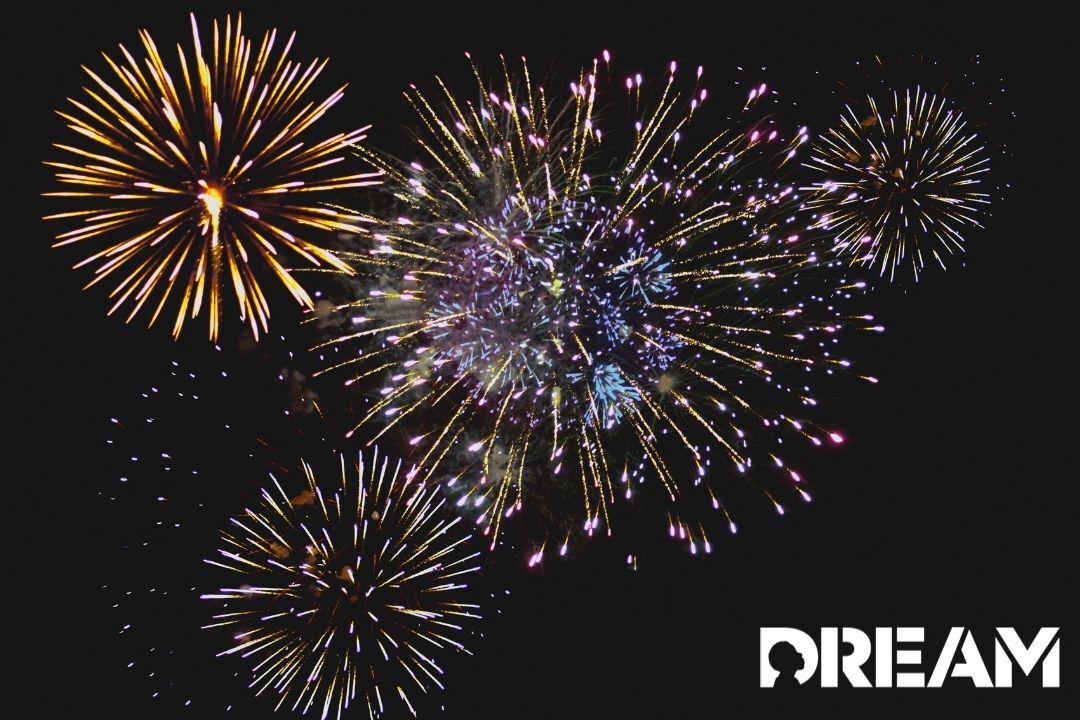 Throughout the year, DREAM has youth mentoring programs for the children in our community. The end of the year is a good time to look back and reflect on all the things we learned in the past year, but it's also a time to celebrate with family and friends. Below are 23 New Year's Eve activities for kids to help ring in 2023!
1. Attend a fireworks show
One great firework show to attend in Omaha is the New Year's Eve Fireworks Spectacular. You can often see this show from all across Omaha, even from your own home. You can also celebrate by driving there and watching it from your car.
2. Eat snacks at home
Another fun thing to do is get some snacks at the grocery store and eat them at home. Things like pizza rolls, egg rolls, popcorn chicken, bagel bites and cookies are great ideas because you can easily stick them in your oven. Ice cream is another great option and, if there's snow, you can make snow ice cream.
Find the channel on your TV and tune into the big show. Many popular musicians will play, and you can watch their performances with friends and family from your own home in Omaha. Having this show on in the background is a great way to keep kids excited about staying up until New Year's Day.
4. Fill up balloons with the time and pop them every hour
Along with the countdown on TV, you can fill up balloons and pop them every hour. This is a fun way for kids to get involved with the festivities. Let them help blow up the balloons, write the time on them and tape them to the wall.
5. Play board games
Board games are a great way to make time go faster. You can team up with your family members and invite your friends over to play together.
6. Play interactive video games like Just Dance
You might not want your kids to get zoned in on video games, but playing ones such as Just Dance are a great way to stay up and have some fun while waiting for the new year to come.
7. Create a time capsule
You can use an old shoe box and have your kids put something in the box to help them remember the previous year. Next New Year's Eve, take the time capsule out and create a new one.
8. Cook dinner together
Is there anything you want to eat before the year ends? Find a recipe, gather the ingredients and have your kids help you cook it.
9. Talk about your resolutions
What are the things you want to do this next year? Have your kids decide if they want to make three new friends, do better on their math tests or pick up a new hobby. Write them down and hold each other accountable.
10. Have a snowball fight
Tired of being inside? Bundle up and have a snowball fight. Of course, this one is snow-permitting.
11. Celebrate by banging pots and pans
You don't have to buy any pricey noise makers from the store, rather you can grab a spoon and pan and bang them together when it's time to say, "Happy New Year!"
12. Get t-shirts from the dollar store and decorate them
The dollar store has cheap t-shirts, dyes and paint markers you can use to make shirts for the New Year. Let each child decorate their own and then you can sign each other's to remember who you spend that New Year's Eve with.
13. Write a family bucket list
Along with your new year resolutions, create a bucket list you want to do with your family in the upcoming year. This can include trips to the Omaha zoo or Lauritzen Gardens.
14. Have a dance party
Play some of your favorite songs and dance around the living room. This will help your kids stay awake by giving them a little energy, but also will help them get tired enough to sleep after they reach midnight.
15. Make your own party poppers
You can make your own party poppers with a toilet paper roll, crepe paper, confetti and ribbon. Here's a DIY recipe!
16. Take silly photos with a DIY photo booth
Create a photo booth and take some silly photos to document your celebration.
17. Play charades
If you've run out of board games to play, you can use small pieces of paper and a hat and take turns drawing a paper with a charade on it. Have everyone play together to guess what they are.
18. Drink something warm
If it's a chilly New Year's Eve, drinking some warm hot chocolate is a wonderful way to warm up. You can even get crafty and make your own hot chocolate bar.
19. Play minute-to-win-it games
Playing minute-to-win-it games are a cheap and fun way to bring in the new year. Try and get an Oreo cookie from your forehead into your mouth in a minute, or try and keep three balloons up in the air for a whole minute.
20. Have a sparkling apple cider toast
A champagne toast is a classic way to ring in the new year, but you can substitute sparkling apple cider so your kids can join in on the toast.
21. Goodie bags before midnight
Get your kids excited and help them stay awake by telling them they get a goodie bag if they make it to midnight. Fill it with some candy and a little toy or activity.
22. Print off NYE coloring sheets or color in a coloring book
If you have a printer, you can print off New Year's Eve coloring pages. If not, you can find coloring books at the dollar store or simply color in one you already have at home.
23. Go through your favorite memories of last year
Before the year ends, go over your favorite memories. Was there a fun family vacation? Did you really enjoy this Halloween? Talk about how fun it was and why.
Participate in our youth mentoring programs next year
If you're interested in making a difference in a child's life, think about participating in DREAM's youth mentoring programs. Contact us today to see how you can get involved!