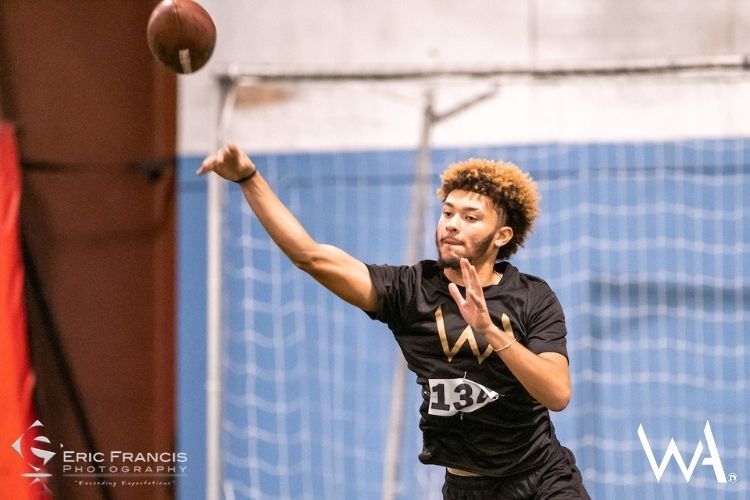 For aspiring college athletes, one of the best ways to get recognized in front of college coaches is by attending camps and showcases. Although many college camps are held during the summer months, showcases and combines are held all throughout the year by a variety of different organizations. The main goal of these showcases is for college coaches to be able to evaluate high school athletes in-person and in a competitive environment.
At Warren Academy, we offer a few different football showcases throughout the year, where college coaches from around the Midwest come and watch. We currently have two upcoming showcase events, our Unsigned Senior Showcase and our Top Prospects Showcase. Our showcases offer student-athletes a chance to demonstrate their athletic ability and skill on the gridiron against other elite high school football recruits. As these events grow closer, we wanted to go over some tips on how athletes can help themselves stand out.
Reach out to coaches
Before you attend a showcase, it's a good idea to check out the list of coaches that will be attending. If there is a coach from a school that you are interested in, reach out to them at least a week in advance! Let them know that you will be participating in the showcase and are eager to talk to them. Doing this lets the coach know that you are interested in their program and will help you stand out.
Hustle
Another important thing to do during a showcase is to always hustle. Whether it's when you are actually competing or in between drills, players that hustle stand out to the coaches watching, and it shows them that you are willing to work hard all the time.
Pay attention
When a coach is talking to you, always look them in the eyes. Although this is kind of an old-school saying, doing this shows coaches that you care and are willing to learn.
Be confident in yourself
The most important thing to remember during showcases and football camps is to always stay confident. Mistakes happen from time to time, but don't dwell on your mistakes! Coaches will monitor how you react to adverse situations, and your attitude will speak volumes. Always remember to have fun, stay confident and just play the game!
As we approach our football camps for unsigned seniors and top prospects, now is the time for athletes to start preparing. During these events, your ability and skill will certainly stand out. However, there are other things college coaches will evaluate you on, including how hard you work, how much attention and focus you give and how confident you are in everything you do. Keep these things in mind to help yourself stand out during a football showcase.

At Warren Academy, our football camps for unsigned seniors and top prospects are focused on giving athletes a chance to show college coaches how well they can play ball. Not only will you receive top-notch instruction and tools on how to improve your game, but you will also receive verified biometrics and performance testing that will be sent out to our network of college coaches. If you are interested in our upcoming football camps for unsigned seniors and top prospects, give us a call today for more information.