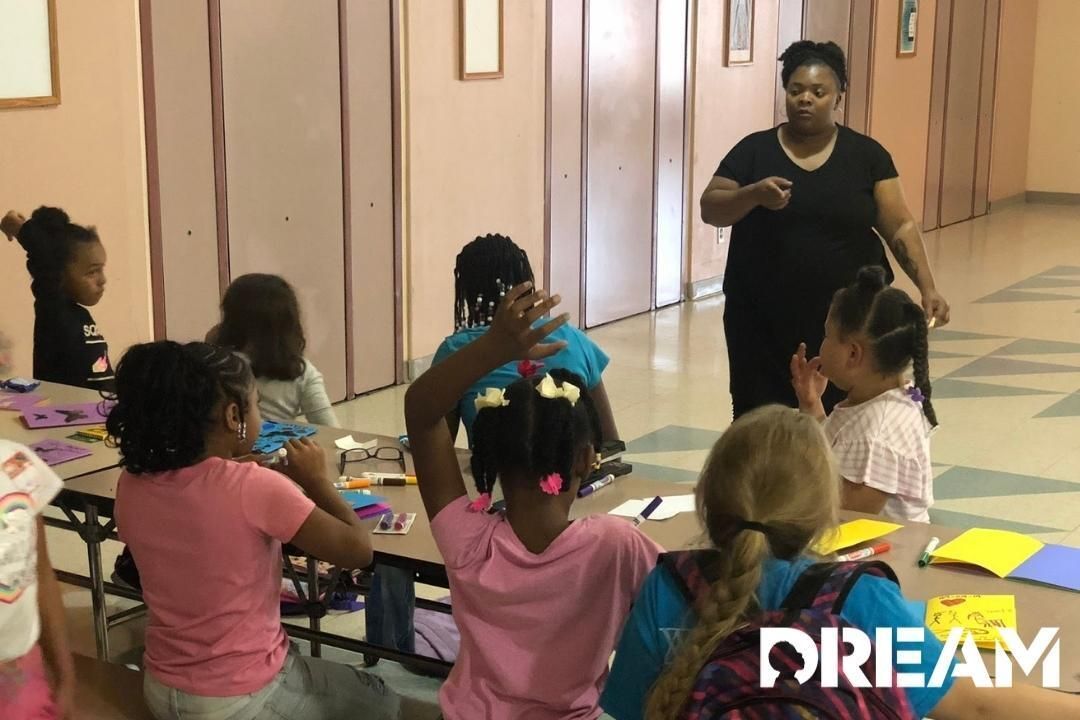 The narrative of our lives starts in our childhood. We have seen that at-risk youth don't always get started with the best story. Reconstruction begins with recovering from what has been wronged, whether dealing with racism, growing in a neighborhood in Omaha that was redlined and set up to fail, or not having a support system of friends, family and mentors.
Mentoring programs in Omaha, NE are geared towards helping youth succeed in school, giving them guidance and support from an adult, and overcoming barriers that prevent involvement in sports. DREAM has served over 600 youth in our after-school programs. Our goal is to develop relationships through education, athletics and mentoring, which is what DREAM stands for. Their story can be changed. At-risk youth, given the necessary tools to succeed, can reach their full potential.
Knocking down the negative barriers
Let's begin with Maslow's Hierarchy of Needs. It starts with psychological needs that must be fulfilled before finally reaching self-actualization. Once our psychological needs are met, we begin to work towards feeling safe with where we are in life, we can then build friendships, learn to respect ourselves, and have the desire to become the best version of ourselves. We need food, clothing and shelter before everything else, and many families in north Omaha lack the resources to meet this need. And it's not entirely their fault.
When Omaha redlined neighborhoods in the past, it became clear racism played a role. We saw the redlined neighborhoods (Sacred Heart, Gifford Park, Kountze Place, Prospect Hill, Saratoga, Minne Lusa, Miller Park, and Monmouth Park) contribute to the people growing up in poverty, and the communities were ravaged by violence. When you can't even feel safe at home, your motivation to succeed in school is low.
Helping them succeed in school
Children living in poverty have higher absenteeism in school or drop out altogether. Those who drop out become susceptible to experimenting with drugs and alcohol, and sometimes even joining gangs. We want to break this pattern of despair and hopelessness.
DREAM's after-school programs give young people a safe place to go, where they are not alone or unsupervised while their parents are still working. Central Park, Howard Kennedy, Hartman, and Nathan Hale students can benefit from this program. We want to do more good for them by helping them succeed in math and reading, taking them on field trips, and providing nutritional meals.
Giving them someone to look up to
Everyone needs someone to look up to. Our team mentoring programs give youth the guidance and support they need from an adult. We want to help them feel good about themselves, build strong friendships with their peers, and work towards reaching their full potential. We want them to know they are not alone, and someone cares if they succeed.
Our mentors encourage youth to stay in school and help them understand the value of education that they might not be able to see. We give them access to several resources and organizations to help ensure they're successful in school and all aspects of their lives. We have seen mentors aid in boosting their self-esteem. When these youth feel that they are important and that they can make a difference in the world despite what their narrative has been, they're able to set goals and feel like their life has a purpose.
Overcoming obstacles preventing involvement in sports
Sports have such a positive impact on our youth. Participating in sports shows them the importance of teamwork, lowers the potential of risky behaviors like substance abuse, and helps them stay healthy. Unfortunately, a higher percentage of poverty is associated with a higher obesity rate. Obesity is related to poverty, low individual income, and food insecurity.
Many youth living in poverty don't have clothes to play in, and many quit sports because of the financial cost. DREAM and Warren Academy help youth unlock their potential by providing training and education. We also show them the importance of how their decisions off the field, and between games and practices affect their play and how it can make or break their future opportunities.
The positive impact of mentoring programs in Omaha, NE
Changing the narrative helps change lives. When we help meet the needs of youth living in poverty, they are better able to see their potential. But, we cannot do it ourselves, it takes a community to raise our youth. We are always looking for people of different backgrounds and abilities to join our team. If you want to make a difference, consider participating in mentoring programs in Omaha, NE. Contact us to get started!