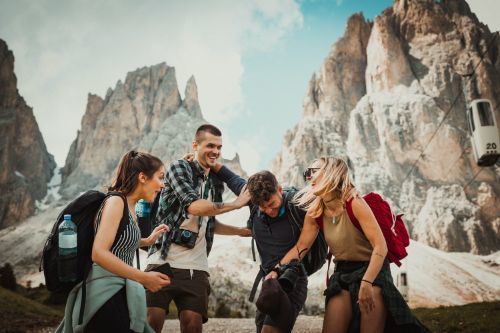 Friends in our lives mean the world, and it's time to show them just how special they are. Friday, July 30 is considered International Day of Friendship. Celebrate with these ways you can show the people you love the most just how much they mean to you. This is a day centered on bringing people together from all over the world, from different cultures, religions, backgrounds and more. From opening yourself up to making new friendships to rekindling the oldest friendships, here are ways you can celebrate and spread the love. 
Introduce Yourself to Somebody New
All friendships start somewhere. Consider expanding your friendship horizons and inviting somebody new into your circle. Consider acquaintances you may know from activities you do weekly, like work, hobbies, fellow parents or even the gym. Just because you have interacted with them thus far and haven't developed a friendship doesn't mean it isn't possible. Sometimes all it takes is one person to make the first move and strike a deeper connection. Start by discussing the things you have in common. 
Pick Up the Phone, and Call an Old Friend
In a world moving fast with text message after text message, picking up the phone to call or FaceTime can carry more meaning. Ask a friend you haven't spoken to in awhile if you can set up a time to call them. That's it, it's that simple! You may just find that you can talk for hours.
Send Snail Mail
What once was old is new again. Snail mail, or a good old-fashioned written letter, can be more exciting to receive than a text or an email. Get crafty with it! Add stickers, drawings or use multiple colors of markers to brighten your friend's day. Your unsuspecting recipient will enjoy the sweet surprise arriving in their mailbox. 
Enjoy a Meal Together
Food is at the heart of many memories. Cook a meal together where you both contribute to the final product. This will give you time to bond while slicing and dicing ingredients, along with time together while the final product is cooking and you're enjoying the meal.
If you aren't exactly the cooking type, consider going out for dinner or ordering in for a chance to catch up. Take this as a time to splurge on one of your shared favorites and pull out all of the stops. This will be the perfect opportunity to make time for each other and have a one on one conversation.
Volunteer Together
Give back all while celebrating friendship! Ask one or more of your closest friends if they'd be willing to join you in volunteering at your favorite organization. Or, consider a one-off event in your community that may need volunteers. This is also an added opportunity to meet others that you may not normally have the chance to meet otherwise. Open yourself up to hearing stories of those you are helping to better understand the world around you!
It's always a wonderful time to celebrate friendship, but International Day of Friendship is the ultimate reminder to show the ones you love that you care. Make new friends from different backgrounds and cultures, celebrate those you already have and don't be afraid to pick up the phone to call the ones you love.