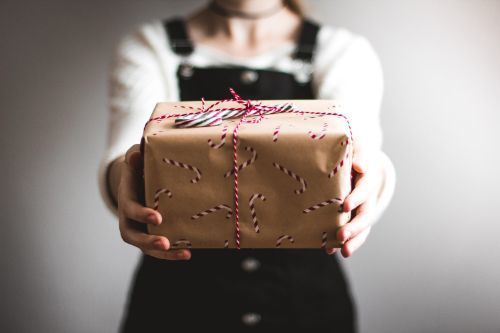 As the weather outside takes a downward dive, there are plenty of ways to lift spirits this holiday season. It's time to spread warm wishes and cheer. Sometimes the smallest acts of kindness can make the biggest difference for a friend, or even a stranger. Consider these eight small acts of kindness that can go a long way 
1. Pay for Somebody's Coffee
Next time you're in the drive-thru getting your caffeine fix, consider paying for the person behind you at the window. This is a small yet thoughtful way to make somebody's day. If you're looking for an option that takes you out of the spotlight, this is the perfect act of kindness. You'll be well on your way before the person behind you ever realizes you paid for their cup of joe. 
2. Scrape a Stranger's Window
If you're already out there in the cold, you might as well put a smile on somebody's face. Take your scraper and wipe off the windows of your neighbor or friend. You may have cold hands by the end, but this act of kindness is sure to warm your heart (and the person who doesn't have to scrape their own window!).
 
3. Donate to Your Favorite Organization
The holiday season is also a time for gift-giving to nonprofit organizations. Year-end giving is a vital fundraising opportunity that many organizations rely on to help get through the end of the year, and to set up the year to come. Consider making a donation to your favorite organization. If you'd like to give a gift that gives back this year, consider leaving a donation in someone special's name. 
4. Give a Sentimental Gift
This holiday season, give a friend a gift with meaning. Sometimes the most treasured gifts don't cost much at all. Whether it be a framed photo of a treasured time, something to represent an inside joke or any other sentimental gift, your friends and family will remember it for years to come.
 
5. Donate Warm Clothing
As temperatures drop, consider donating hats, mittens, coats and other warm weather gear. Find a local organization distributing these items to people who will need it most. Another great idea is to keep warm blankets or clothing in your car to hand out to those you see who might use some extra warmth. 
6. Write a Note of Thanks 
Write up an email, get out the quill pen or round up your carrier pigeon. However you want to send a note of thanks, take some time to write out your heartfelt appreciation for those you love. Speak from the heart and you're sure to make somebody's day.
 
7. Shovel a Neighbor's Driveway
Warm your neighbors' hearts by getting outside and shoveling snow. This is a great option for somebody who may not be able to do so because of age or other factors. If you're willing and able, get out the shovel or snow blower and lend a warm, helping hand.
 
8. Bake Some Treats
'Tis the season to bake up some sweet treats. Make some extras and drop off care packages to a nursing home, a friend or complete strangers in your neighborhood. Maybe it's your secret family recipe for chocolate chip cookies, or a brand new one you've been waiting to try. Whatever it is, gather it up and spread some warm, gooey, holiday cheer. 
Everybody could use a reason to smile this year, and these ideas are just small ways you can extend warm wishes. Consider these small acts of kindness, or make up your own. Try setting a daily or weekly reminder to do one small thing for somebody else. It's sure to improve your week and the person you're helping.