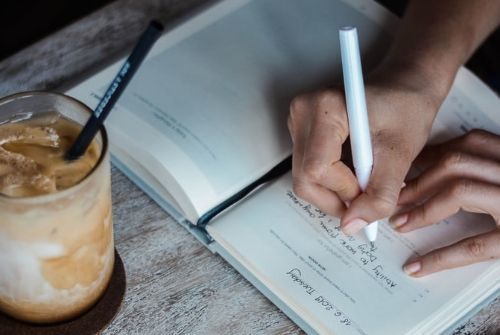 Thankfulness is a healthy and smart practice to better yourself year-round. However, it's easy to let our daily routines take over and push practices like this to the side. That's why November is the perfect time to remind ourselves to actively practice the art of thankfulness. After all, Thanksgiving is just around the corner. Check out these seven easy ways you can practice your gratitude and improve your attitude on life this month.
1. Send Handwritten Notes
An email may be faster, but a handwritten note takes more time and care. Get out your pen and put some thoughts to paper. We're talking literally! In a digital world, a handwritten note means that much more. Plus, who doesn't love getting surprises in the mail that aren't bills? 
2. Keep a Gratitude Journal
Thoughts are fleeting, no matter how much we convince ourselves that we'll remember later. Keep a gratitude journal that you use daily to write down what you were most thankful for on each day. At the end of the month, go back and read the words you wrote for a positive pick-me-up! Then, don't forget to reach out to some of those people that helped to make your day a little bit brighter. They'll be glad to hear from you.
3. Meditate
Sometimes it takes some inner reflection to determine what we're truly the most thankful for. When you quiet your mind, you'll be able to hear your thoughts loud and clear. Take a small amount of time each day, even 10 minutes, to reflect on what you were thankful for during the past day. If you're struggling to calm yourself, consider downloading a guided app onto your phone to help you focus your thoughts.
4. Pick Up the Phone
Texting is the way of the future, which makes picking up the phone and calling somebody that much more special. Go through your list of friends and family to find somebody that you think could use a smile. Give them a call and let them know why they mean so much to you. Who knows, you could end up talking for hours.
5. Give Back
If you're thankful for a special cause, consider donating your time or money to help a local organization. This is the perfect way to show that you care and to make your contributions go far. If you are unable to give time or money, consider spreading awareness by educating others on the mission of the organization so that others might donate time or money. This will ensure you can remain thankful for the organization for years to come!
6. Give a Social Shoutout
You may not be able to shout your gratitude from a mountaintop (depending on where you live) but you can get a wide reach by using your social media. Surprise one of your friends or family members by letting the world know how much they mean to you. Go ahead and post a picture with some heartfelt words to make somebody's day.
7. Remember to Say "Thank You"
No matter where you are or what you're doing, a small thanks can go a long way. Remember to remind yourself each day that saying "thank you" can mean the world to somebody. Whether a stranger held open a door or your friend did you the biggest favor, remember to tell that person that you are thankful for their actions. It's that simple—just say "thank you" out loud.
How will you practice thankfulness this November? These small but thoughtful actions can help remind you that there's a lot to be thankful for this year. Remember that letting somebody know that their actions had meaning will help further your bond and relationship moving forward. Now it's time to practice giving thanks!