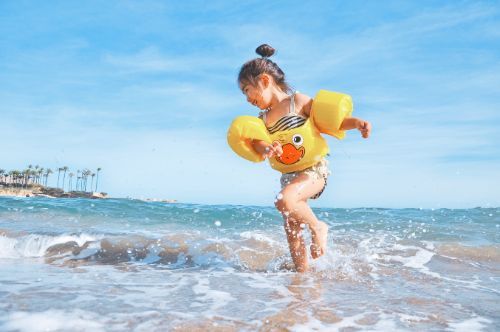 How is it already August? It feels like it could still be April, yet summer will be winding down soon, and we'll be on our way to figuring out what "back to school" looks like, pumpkin-spiced everything and, before we know it, the holiday season.
But, wait. Before we get too far ahead of ourselves, let's focus on August, which also happens to be National Admit You're Happy Month. In 2020, you might be wondering if being happy is something you could admit to—but even during challenging times, there are ways to boost your mood and try to celebrate the good things in life.
Here are 31 ideas to get you started:
Write yourself a note to pump yourself up. Stick it somewhere you'll see it for an extra boost of encouragement throughout the day.
 
Write someone else a friendly note—just because. This can make you happy, plus it can pass that happiness along to someone else. 
 
Practice positivity. See how long you can go without complaining once, then try to beat your high score the next day.
 
Spend time outdoors. Nature has ways of instilling joy in us. It's still summer, so set up a kiddy pool and pretend you're at the beach.
 
Go on an adventure. Skip the planner for a day and see where the road takes you. 
 
Treat yourself.  Try making yourself a delicious carefree snack. Become your own Iron Chef. 
 
Pay it forward. Find joy simply by paying for the person behind you at the coffee shop or drive thru. 
 
Have a dance party. In your house alone or with other people, break it down and "dance it out" like Meredith and Christina in Grey's Anatomy.
 
Chill out all day. Take a PTO day and spend an entire day lounging around and relaxing to give yourself a much needed mental and physical break.
 
Donate to a cause. Pick a charity you believe in and be generous.
 
Explore your spirituality. A few minutes of meditation might help you get in touch with your inner self and find some calm during a stressful time.
 
Play a board game. Maybe skip Monopoly, though . . . unless you're down for a marathon game. 
 
Try a new hobby. Interested in playing guitar? Painting or drawing? See what joys await you and start exploring potential hobbies.
 
Give a smile. While we can't hug right now, a smile can instantly make someone's day. 
 
Try a new recipe. Get creative and cook up something new that you've never made.
 
Volunteer at the animal shelter. Check out your local pet shelter to find options near you, then go forth and have the greatest day ever. There's nothing quite like a day filled with furry friends.
 
Watch a funny movie. Laughing until your sides hurt always brings joy. 
 
Reconnect with your relatives. Haven't talked in awhile? Give them a ring or have a video call. 
 
Grab a coffee or smoothie. This is an easy way to practice social distancing, while still enjoying your favorite drink.
 
Give yourself a makeover. Find some YouTube videos on hair, makeup or even making your own clothes. There's so many options, get out there and strut your stuff.
 
Read a good book. Get lost in a new world. 
 
Watch your favorite music videos. You could even branch out and find new favorites!
 
Get takeout from your favorite restaurant. Eat your favorite meal on the couch with a good movie. 
 
Buy yourself flowers.  You can put them somewhere you'll see their beauty everyday.
 
Write a poem or short story. You could even write a blog article about something that makes you happy.
 
Try nature photography. Your smartphone camera might not be a professional tool, but it will do just fine. Try experimenting with filters and editing tools.
 
Watch the sunrise or set. Whether you're a night owl or an early bird, this is an activity anyone could enjoy!
 
Make a list. Try writing down everything you're grateful for and take time to appreciate it all.
 
Exercise. In the wise words of Elle Woods (Legally Blonde), "Exercise gives you endorphins. Endorphins make you happy."
 
Try a DIY project. Even a simple project can bring out your inner happiness. Especially when you see your final product and revel in your masterpiece. 
 
Throw a party for one. Celebrate your 31 days of happiness!