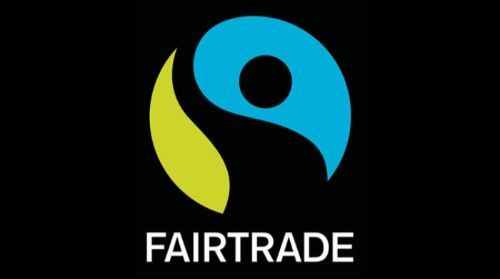 Tomorrow marks the first day of October, a month in which we celebrate and raise awareness about the fair-trade movement and its effect on our global economy. 
What is fair trade, you ask? According to the World Fair Trade Organization, it's "a trading partnership, based on dialogue, transparency and respect, that seeks greater equity in international trade." The fair-trade movement promotes proper wages, inclusive practices, and 
safe working conditions for employees. 
Many communities who produce fair-trade products are often in need. There are plenty of ways in which you can support fair-trade producers and organizations. The following list should give you some inspiration on how to incorporate the fair-trade movement into your life.
1. Purchase fair-trade products.
Look for a fair-trade symbol, like the one pictured here, when shopping for ethically sourced products. You can find fair-trade versions of just about everything you buy: clothing, home decor, kids' toys, etc. Encourage your friends and family to join you in your fair-trade journey as well.
2. Shop for fair-trade groceries.
So many of your kitchen staples can found in fair-trade versions. From coffee to produce to herbs and spices, you'll be sure to snag some great finds. If your local grocery store doesn't stock a fair-trade product you're looking for, be sure to ask an employee if they'd consider carrying it. Buying fair-trade groceries supports farmers and allows them to keep producing food that's good for you and the global economy.
3. Spread the word about fair trade.
You know the phrase, "spread like wildfire?" Well, the fair-trade movement can't grow unless people like you tell others about it. Use hashtags like #FairTradeMonth or #FindFairTrade on your social media posts. Talk about fair trade and its benefits to your friends, family and coworkers. Word-of-mouth is an incredibly powerful tool, and you can use to help continue a movement that's changing the world for the better.
4. Donate to places that support fair trade.
By giving what you can to organizations that support fair trade, you're helping strengthen the communities it impacts. A cacao farmer in Ecuador gets to keep making a living wage because of people like you who donate. Giving back to fair-trade nonprofits helps communities rise above the poverty line.
Fair trade is a wonderful cause to support. By dedicating a whole month to raise awareness for it, you can make a big impact. Try any of these ideas to get started being a champion for the fair-trade movement.