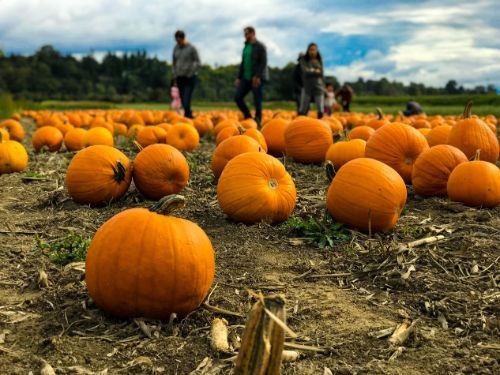 It wouldn't be fall without at least one trip to your local pumpkin patch, right? Everyone gets to pick out their perfect pumpkin to carve, paint or simply place on the porch. However, scouring a patch is only fun for so long. Luckily, most pumpkin patches have other activities to keep you and your family entertained all afternoon. Keep reading for a full list of our favorite pumpkinless patch pastimes. 
Petting Zoos
Many pumpkin patches allow you the opportunity to interact with farm animals such as goats, rabbits or even alpacas. Petting zoos are a great way to introduce children to different kinds of livestock. Most kids get a kick out of getting up close and personal with these animals, but make sure your little ones aren't too overwhelmed by them, especially if they're feeding them. Some animals may get a little too friendly when someone's trying to feed them.
Jumping Pillows
Typically made of inflatable PVC cushion, these trampoline-like pillows can hold about 10–20 kids at a time. They're a great way to let your kids blow off some steam in a safe way since most are surrounded by soft sand and sit close to the ground. Just make sure it hasn't recently rained, as a slick pillow makes kids more prone to slipping.
Corn Mazes
Corn mazes are great for older kids who aren't big fans of haunted houses. They are comforted knowing you're with them the entire time. Try letting them lead the way in order to give them more independence. Allowing them to take the reins also can improve their leadership skills and communication. If they get scared or frustrated, offer to help them out or have them ask an employee for directions.
Pumpkin Chucking
You can find this oddly satisfying activity at most pumpkin patches. It involves loading a pumpkin into a catapult and flinging it into an open field. Most patches give you the option of watching from a distance or launching the pumpkins yourself. Depending on the age of your children, you'll be able to decide how you'd like to participate.
Hayrack Rides
Haunted or spook free, it's up to you. An evening ride through the pumpkin patch is the perfect way to wind down your day of family fun. You get to rest a bit while watching the sun set over the patch. Helpful tip: make sure you and your family members wear jeans or some sort of pants. Shorts and skirts make it easy for the hay bales to scratch up uncovered legs.
Pumpkin patches are a staple of the autumn season. They're the perfect fall family outing for kids of all ages. Be sure to check out your local patch online and see all the fun activities it has to offer.