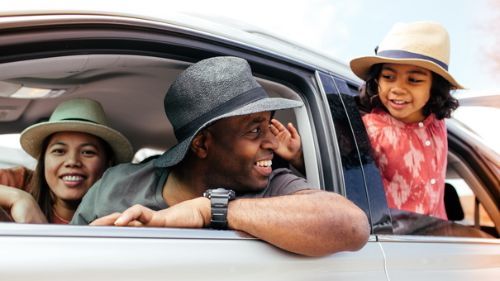 Summertime means family vacations. To many families, vacations include long hours in the car on the way to and from their destinations. Family road trips are a great way to get closer to your loved ones while exploring new places. Making sure you've packed thoroughly can make your road trip experience even more enjoyable. Whether you're headed to the Gulf Coast or the Grand Canyon, we've compiled a list of items you'll need once you've hit the road.
1. Chargers. For everything.
Unless you're doing things old school, you're likely using a GPS on your smartphone or dashboard to navigate your trip. Be sure to have your charger (with a car adapter) handy when you're battery starts to drain. Losing your sense of direction can easily create a stressful situation. 
Also include chargers for cameras, e-readers, tablets and any other electronics you're planning to pack. If you need a device to constantly have power, pack a portable charger to ensure you'll never suffer from low-battery panic.
2. Something to read
Books, e-readers and magazines are great boredom savers on long car rides. They're entertaining ways to pass the time for both kids and adults. Grab a sci-fi novel to get lost in a different world, or pick up a non-fiction book to learn something new. Does reading in the car give you motion sickness? Consider downloading an audiobook to get all the content without the queasiness.
3. Your favorite snacks
Most people can agree that snacks are one of the most important components of a good road trip. Stop by your local grocery store before you head out to make sure everyone gets something they like. Packing a cooler with your favorite drinks and eats ensures no one will be left hangry. 
4. Wet wipes or paper towels
It's no secret that kids can be messy, so having wipes at the ready will make it easy for you to clean them up. They'll also save your car interior from sticky fingers.
5. Downloaded movies
If you have a tablet or a laptop, consider downloading a few movies to help pass the time. They're sure to keep kids happy and entertained, and they can give you a break from the age-old, "Are we there yet?" question. Just be sure to remember headphones!
6. Blankets and pillows
Spending long hours in the car can get uncomfortable quickly. If you know you'll be cold from the air conditioning, bring a blanket with you to keep cozy. Pillows are also essential for a mid-trip snooze or just to rest your head on during the drive.
7. Notebooks and colored pencils
A cheap and fun way to spend drive time, supplies like paper and colored pencils can easily cure kids' boredom. They can doodle, play tic-tac-toe or practice their writing skills. Try limiting writing tools to colored pencils, though. Markers and pens can stain car interior, and crayons can melt in hot cars, leaving a mess.
Road trips can be a blast when you come prepared. You have the ability to create fond memories before you even reach your destination! Just remember the essentials, and you'll be set for a drive to remember.