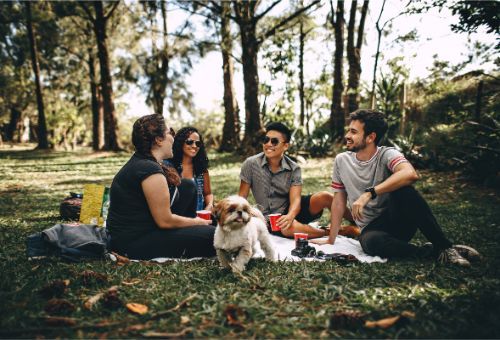 Today marks International Friendship Day. The tradition started in 1998 when Winnie the Pooh was named the world's Ambassador of Friendship by the United Nations. Later, in April 2011, the UN first recognized July 30 as International Friendship Day as a day to celebrate friendships and help bridge the gap between race, culture and religion. Many nations, however, observe it on the first Sunday of August. There are so many ways to celebrate International Friendship Day. You may want to personalize it to your individual friendships, but in case you're stumped, we have a few ideas.
Plan a picnic.
Gather your friends together for a relaxing picnic at your local beach or park. They're a cheap and fun way to spend time with those you care about, and they're pet friendly, too. Grab some blankets and lawn chairs to lounge in while you eat, and you'll be set. Just remember to pack silverware!
Send your friends cards.
Good, old-fashioned snail mail offers a much more personal touch than a text message or email. Writing nice notes to your friends shows them how much you care about them and value their friendship. Pick up a greeting card from the store, or design one yourself. Your friends will appreciate your thoughtfulness and perhaps send one in return.
Gift your friends succulents.
Succulents are known to be long-lasting plants. Considering gifting them to people whose friendships you know will last a lifetime. They're easy plants to take care of and add a touch of greenery to any space. 
Grab a bite to eat.
Food has a tendency to bring people together. Get your friends together and try that new restaurant that just opened in town. You'll get to spend time with people you care about and have a new experience together.
Try an art and wine class.
These trendy classes are often a hit for both pairs and large groups. They bring people out of their comfort zones and offer a unifying activity. Don't worry if you're no Picasso; most people will think their art turned out the worst. Check if the class you're attending has a bar installed or if you can BYOB for an extra treat.
Give your long-distance friends a call.
Have a friend that lives far away? Call them up or video chat with them to let them know you're on your mind today. Everyone likes being thought of, especially by someone they don't get to see often. A phone call is an easy way to brighten someone's day on National Friendship Day.
National Friendship Day is the perfect opportunity to show your friends some love. You don't need to do anything grand to make a big impact on their days. Simply expressing your gratitude for their friendship is enough, but if you want to do something extra, consider one of the options from the list above to make your (and your friends') day special.