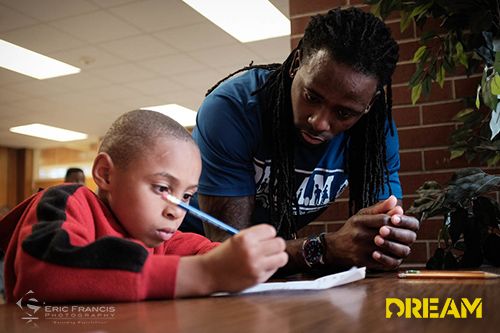 Just like the youth we serve, we know no two volunteers are the same—and that's a great thing. We're always looking for people with different backgrounds and upbringings to help mentor and lead youth towards making positive life choices.
If you like teaching and working with students, after school tutoring with DREAM may be the perfect opportunity for you. We are always looking for mentors to join our tutoring team. There are three specific subjects we will always need tutors for: math, English and science.
Math Tutoring
The subject most requested for after school tutoring is math. It can be the most challenging subject for students and for their parents who may not excel in that area or struggle with current methods.
Math tutoring can be especially important for high schoolers as the subjects difficulty increases between grades 9 through 12. Their options of getting help from people around them also decreases dramatically. Even students who do well in math need help every now and then, and could benefit from one-on-one tutoring.
The popular math subjects taught during after school tutoring are:
Algebra
Geometry
Trigonometry
Calculus
If you have the academic knowledge and skills to tutor in any of these areas, be sure to highlight them in any tutoring community profiles and in your resume.
English or Language Arts
English is a close second to math in popularity for after school tutoring. Tutors work with students in many areas, including:
Grammar
Essay writing
Literature analysis
Vocabulary
Communications skills
Proofreading
Some teachers specialize in teaching the English language to immigrants or foreigners who may have basic English knowledge, and need to improve their conversational and writing skills.
The options are numerous and the competition is high. If you want to become an English tutor you should decide the demographics of the students you want to work with and build your reputation and resume in that area.
For example, you may enjoy teaching English to young adults much more than teaching vocabulary skills to elementary students. It's important to tutor the people you like to work with, because you'll be more motivated to market yourself if you enjoy your work.
Science
Following math and English in popular after school tutoring subjects is science. Like math, students find it hard to find individuals within their circles to help them with science, which is one of the more challenging subjects.  
Sometimes students just need help figuring out a concept in order to complete any assigned work. However, science can be abstract to many students. They may require much more one-on-one attention and help to understand the application of concepts, such as how they relate to experiments.
Therefore, after school tutoring includes everything from helping students set up science fair projects to studying for exams.
The popular science subjects taught in after school tutoring sessions are:
Biology
Chemistry
Physics
The more experience you can show working in the field of science, the more marketable you'll be to students looking for after school tutoring. Helping students through after school tutoring can be a rewarding hobby if you're a teacher at heart.
It's true that tutoring jobs are competitive, especially when it comes to the most popular subjects. However, if you're consistent and build a reputation for providing valuable help, your students will spread the word and help you get more tutoring jobs.
DREAM, one of the Midwest's well-known youth mentoring organizations, provides life-changing and life-enriching experiences to at-risk youth through mentoring and after-school programs in Omaha, Nebraska, and Springfield, Missouri. Their proven approach puts children in a comfortable setting where they're encouraged to discuss openly, learn, and grow as individuals. Are you interested in getting involved with DREAM? Contact us today.