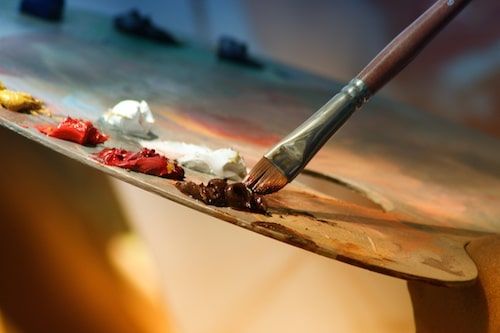 Ah, the finer things. Painting, music, dance, sculpting… all wonderful components of the arts. In today's technological world, many people place a heavy emphasis on the fields of math, science and engineering. However, the arts still play a vital role in much of our society. In fact, without the arts, much of our history, expression and culture would be virtually nonexistent. 
To commemorate the arts, the International Association of Art (IAA) established the first-ever World Art Day on April 15, 2012, in honor of Leonardo da Vinci's birthday. Since then, World Art Day has been celebrated on April 15th as an international celebration of fine arts. In 2015, World Art Day was held for the first time in the United States in Los Angeles. Later in 2017, the official U.S.-based chapter of the IAA was formed, officially establishing World Art Day as a continual celebration in the United States. There's no doubt that art plays a major role in our lives, so how can you celebrate World Art Day today? We have some ideas.
Visit an art gallery.
This might seem simple, and it is! One easy way to celebrate World Art Day is by visiting a local museum or art gallery near you. Many museums or galleries might offer extended hours for the day, special discounts or put on educational programs to commemorate the occasion. Take the time today to check out a local gallery in your community and see what you can learn.
Support local artists.
Local artists are often the backbone of the community. They provide valuable art and beauty in an otherwise monotonous world. If you want to celebrate World Art Day, consider how you can support local artists near you. In fact, you might just find artists at the gallery you visit, late night at a poetry reading or even on the sidewalk as you walk by. Find a piece of art you enjoy and purchase it for your home to add elegance and support others around you.
Do an art project with kids.
You already know kids are the future. Unfortunately, many schools have to reduce their funds for art education, which makes World Art Day even more important for younger generations. Teach the children in your life about World Art Day by doing a project together with them. Pick an artist from a period you love, study him or her and their style, then encourage your kids to try the art for themselves. And remember: expression is unique! Let them find their own style as they explore the infinite world of art.
Attend a theatre production.
There's more to art than painting; in fact, theatre plays a major role in the art industry. After you visit the museum and art gallery, attend an amateur theatre production in your community to support those around you. Depending on the play or musical, you can even invite your entire family, for a fun night out with the kids to teach them about art.
Support a nonprofit.
Many nonprofit organizations—both local and national—put an enormous amount of effort into contributing to, encouraging and promoting the arts. If you want to join in, consider how you can support a nonprofit. Whether it's attending shows, purchasing artwork, volunteering or simply giving a monthly donation, you can help make a difference.
World Art Day is about coming together as an international community and recognizing the importance of fine arts. If you want to join in, consider these ideas for how to celebrate today. Help spread the enthusiasm and awareness of the arts in your community, and watch how others around you flourish.