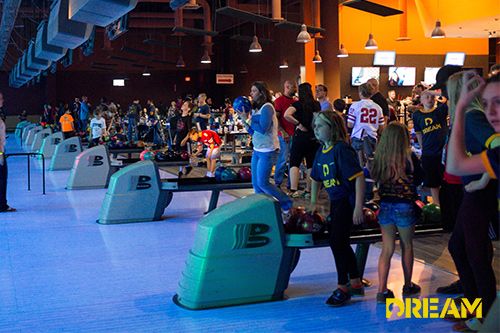 We are gearing up for our annual Big DREAM Weekend, and we are SO EXCITED! The Big DREAM Weekend is our largest and most important fundraiser of the year. Hundreds of donors, companies and athletes come out for the incredible and unforgettable event.
Big DREAM Weekend is unlike any other nonprofit fundraiser, but you have to be there to experience it for yourself. This year we will be bowling at The MARK in Elkhorn. You and the entire family can bowl, have your face painted, eat, drink, participate in raffles and giveaways. If you don't want to bowl, enjoy the event as a spectator for just $5.
Big DREAM Weekend will have more than 50 celebrity guests in attendance. That includes Husker legends, former and current NFL players and other local celebrities.
There are still sponsorship opportunities available, however we are excited to announce title sponsor and featured sponsorships have already been acquired.
This year's Title Sponsor is Omaha Media Group. OMG is a privately held faith-based creative management firm. The Omaha based company designs and develops intuitive web applications to help companies take advantage of the power in social and business collaboration, cloud computing mobile applications and next generation tools for enterprise business.
Omaha Media Group is a leader in creating and cultivating new technologies and brand awareness through digital marketing and SEO for the betterment of the world around them.
Since 2011, OMG has been a proud sponsor of DREAM. One of the many things OMG prides themselves on, is philanthropy.
Our Featured Sponsor this year is Metropolitan Community College. MCC has been supporting the community of Omaha since its creation in 1974. MCC is currently one of the fastest growing postsecondary institutions in Nebraska. All of their college programs are approved by the Nebraska State Department of Education for veterans' educational benefits.
In addition to institutional accreditation, the bodies of various professional associations approve many MCC educational programs. Community Engagement supports outreach efforts at Metropolitan Community College including Community Based Education and Volunteer Services. The mission of MCC's Community Engagement department is to help support, provide and/or coordinate meaningful community engagement learning opportunities.
If you would like to take part in this event, remaining sponsorships are limited. By sponsoring the Big DREAM Weekend, your company's name and logo will be displayed on the Big DREAM Weekend website, company logo on the official event t-shirt, one to two lanes for bowling to build DREAM, 6 passes to Friday night's event kickoff party, and autographed football, and event t-shirts.
Please contact Steve Warren today by emailing info@joindream.com. You can also visit our contact page. For your convenience, we've included a contact form below. Fill out the form on our page and we'll contact you as soon as we can.
DREAM, one of the Midwest's well-known youth mentoring organizations, provides life-changing and life-enriching experiences to at-risk youth through mentoring and after-school programs in Omaha, Nebraska, and Springfield, Missouri. Their proven approach puts children in a comfortable setting where they're encouraged to discuss openly, learn, and grow as individuals. Are you interested in getting involved with DREAM? Contact us today.