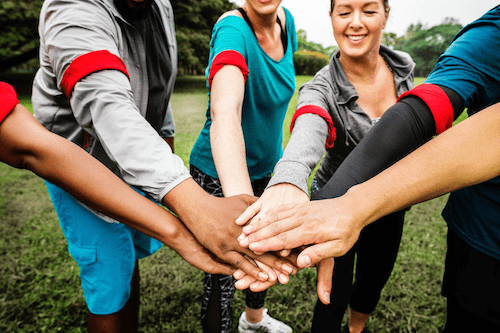 There's no doubt about it: volunteering is good for you. When you share your time and talents with others, you also receive benefits in return. Whether it's experience for a resume, connections for a career or simply the affirmation of helping a fellow human being, volunteering impacts your own life as much as the lives of others.
In fact, volunteering has even been known to mitigate depression and anxiety concerns. Mental health plays a critical role to well being. This means if you suffer from depression, anxiety or other mental ailments, even daily functions can be incredibly difficult. Fortunately, recent studies have shown how volunteering with people or a cause you care about can actually mitigate depression and anxiety issues. Here's how.
Volunteering connects you with others.
One of the greatest struggles in dealing with depression or anxiety is the feeling of loneliness. Oftentimes, people who face these ailments feel like they are completely alone in an uphill battle. On the other hand, the greatest benefit of volunteering is the social connections it includes. Despite the constant correspondence our society experiences through technology, a nationwide survey by Cigna found that more than half of respondents feel lonely. 
Fifty-four percent said they feel like no one actually knows them, 56% believe people around them "are not necessarily with them" and 40% said they "lack companionship." This loneliness plays a significant role in our overall mental health. However, through consistent volunteering with an organization or cause you care about, you can generate genuine, authentic relationships with like-minded people. These relationships can alleviate the feeling of loneliness, and positively influence your struggle with depression or anxiety.
Volunteering promotes physical activity.
When we feel lonely, depressed or anxious, oftentimes our natural inclination is to curl up in a ball, stay at home and avoid the outside world. However, this response only negatively influences our mental health further. In fact, physical health greatly affects our mental health, and vice versa. Because every aspect of the body operates together as one unit, focusing on physical activity can oftentimes boost your mental health, as well.
By volunteering, you create one more potential avenue for physical activity. Even if it's simply walking down to the local library to host a children's story time, by getting up, leaving the house and being active, you can help alleviate depression and anxiety. In fact, studies have also found that people who regularly volunteer have a lower mortality rate, are less likely to develop high blood pressure and have better thinking skills. While physical activity through volunteering might not cure depression or anxiety, it can play a role in soothing the concerns.
Volunteering changes your perspective.
If you have ever struggled with mental health, then you know the constant negative perspective you might experience. When you feel depressed or anxious, oftentimes those feelings are the only thing you can focus on. Sometimes, when we experience these feelings, all we need is a shift in our perspective. Volunteering does just that. 
Volunteering gives you the opportunity to interact with different people, circumstances and causes around you, causing a natural shift in how you see your own life. For instance, sharing your talents with people in need might positively change your mindset to recognize you do have useful skills to offer. Volunteering also provides a valuable sense of purpose. No matter how old you are or where you are in life, helping others gives you feelings of purpose, perspective and belonging, which can greatly diminish the struggle with depression and anxiety. 
Mental health has an incredible impact on our lives. If you wrestle with depression, anxiety or other mental ailments, you know how difficult it can be to simply go through the day. Volunteering can help. While volunteering might not cure every mental health struggle, it can play a positive role in mediating it. Try it out and see how volunteering impacts your life.