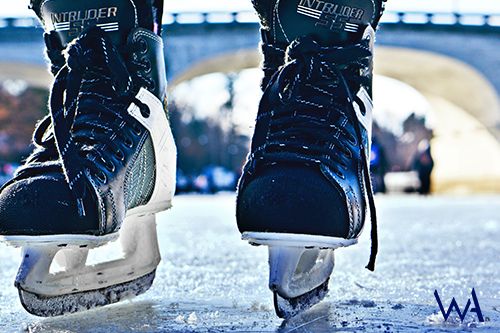 Without a gym membership, many people feel lost when it comes to staying in shape during the cold winter months. Skiing and ice hockey are great sports, but they can be costly and require a lot of training, traveling and planning. With a little creativity though and some basic equipment it's not hard to stay in shape all winter long.
It's always best to take the stairs. Running or walking up and down stairs can be a great high intensity cardio and leg workout. One option for those starting out is to add walking intervals every few floors. Try climbing two steps at a time, sprinting a few flights, or doing some jumping jacks between floors to raise the intensity.
Ice skating can be so much fun, you'll forget it's even a workout. If you're lucky enough to live near a pond or lake, always make sure the ice is solid enough to hold your weight. The best way to pick up your heart rate is to pick up the pace. Skating backwards can also work muscles in different ways. Try staking as fast as you can for a few minutes or come to a complete stop and tough the ice with your hand and then sprint back to your starting spot and touch the ice again. As you get better at it, try going for longer periods, change your distance or reduce your resting time.
Try looking into some indoor sports. Join a team or individual sports program. Competition levels can range from recreational to expert. The most cost effective programs are usually run by local municipalities where gym space at a local school or community center is secured and people drop in for a game of basketball, floor hockey or other team sports.
Ever thought of walking at the mall? When it's just too cold and walking outdoors isn't an option, do some laps inside your local shopping mall. For the average person, a brisk one-hour walk can burn 300 to 400 calories. If there are multiple levels to the mall, climb the stairs to challenge your leg muscles and burn some extra calories.
Snow sprints can also be a great way to get in a good workout while taking in some fresh air. Head to an open, snow covered field with some water-resistant trainers or hiking shoes. Ice doesn't usually form on grass, so it is usually safe to run on a field of fresh fallen snow. Try running, jogging, jumping and playing in the snow. There are few things more tranquil and exhilarating than running around in some freshly fallen powder.
DREAM, one of the Midwest's well-known youth mentoring organizations, provides life-changing and life-enriching experiences to at-risk youth through mentoring and after-school programs in Omaha, Nebraska, and Springfield, Missouri. Their proven approach puts children in a comfortable setting where they're encouraged to discuss openly, learn, and grow as individuals. Are you interested in getting involved with DREAM? Contact us today.