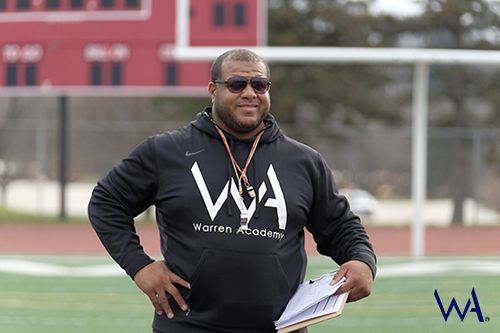 We are so excited to start our position specific training in just a few days, and our coaching staff this year is incredible. We have some high profile coaching staff ready to help your student-athlete beef up their football skills, and take them to the next level in just a matter of weeks.
Allen Burrell Jr.
Allen Burrell Jr. is currently the defensive back coach for Creighton Prep. He has medical science degree in Health Nutrition and Exercise Science, a bachelors of science in Criminal Justice, he is a USA Track and Field Level 1 certified coach and a five time track and field All-American.
Allen currently holds the school record at North Dakota State University for the 100M and the 200M dash. He also holds the 100M and 200M dash school record for the University of Nebraska at Kearney. Allen helped the Millard North High School Mustangs win the Class-A Football State Championship in 2010, 2012 and 2015.
Titus Adams
Titus is a true Nebraskan through and through. He was a stand out defensive tackle for Creighton Prep, a two-time all-state selection and led his team to the Class-A Football State Championships two years in a row winning the State title in 1999.
Adams then played defensive tackle in college for the Cornhuskers at the University of Nebraska at Lincoln.In 49 games with the Huskers, Adams started 22 times, recorded 135 tackles, recovering fumbles, deflected three passes, and intercepted two others.
Titus then went on to be drafted by the New York Jets in the seventh round of the 2006 NFL draft and played six seasons in the National Football League.
Zack Bowman
Zack Bowman is currently a coach for the Omaha Northwest Huskies. Before his time as a coach in Omaha, Bowman graduated from Bartlett High School in Alaska to play for New Mexico Military and University of Nebraska at Lincoln Cornhuskers. Bowman was then drafted to the NFL and played for the Chicago Bears from 2008-2013, New York Giants in 2014, and the Miami Dolphins in 2015.
David Horne
David is a high school All-American who played in first U.S. Army All-American game, second team All-Freshman team, 2nd team Big 12 Newcomers, 1st team All-Gateway Conference and set a school record at the University of Northern Iowa for total touchdowns at 25. Horn then played for the Omaha Beef, Buffalo Bills and Montreal Alloutes. He has been the assistant coach for Concordia High School and Central High School.
David (D.J.) Jones
David graduated from Omaha Central High School where he was named the number one high school football player in the state of Nebraska in 2006, while also ranking in the top 20 amongst offensive tackles. He then accepted a scholarship to play at the University of Nebraska at Lincoln, where played as a Husker offensive lineman. Jones then went on to play football in the NFL with the Miami Dolphins, Baltimore Ravens and Philadelphia Eagles.
Jones is now a personal trainer, wellness advocate and a client rated "5 star coach" via CoachUp.com. His lists of unique skill sets include: individual and group training, speed and agility coaching, sports nutrition management and kickboxing fitness.
Tony Veland
Tony Veland is an Omaha native whose sports highlights include back-to-back 1994-1995 national championships with the Nebraska Cornhuskers. Veland was also the co-captain of the 1995, which is arguably the best college football team in history.
After college Veland was drafted to the NFL playing for the Denver Broncos and was a member of the 1997 Super Bowl Championship team. Tony ended his NFL career as a Carolina Panther. He has since been a coach for the Omaha Beef, Concordia Mustangs and Northwest Huskies.
Matt Vrzal
Matt was a high school football standout for Grand Island Senior High School, winning a number of awards and became nationally ranked for rushing yards per game. In college, Vrzal was part of the class of 1992 at the University of Nebraska at Lincoln, that contributed to the Huskers 59-3 record from 1993-1996.
Currently Matt is proud to be an offensive line and defensive line coach at Omaha Skutt Catholic High School. He has a passion for helping football players develop their skills through discipline, dedication and hard work.
John Teigland
Coach John began his career playing for the University of Nebraska at Omaha in 2008. After starting for the Mavericks, he transferred to Winona State University after the program was discontinued. Unfortunately due to injury, his football career was cut short. Since then, he has coached quarterbacks and assisted as offensive coordinator at Concordia Christian High School, Northwest High School, Team Nebraska in the River Battle Bowl and for Warren Academy.
Andy Hoffman
Andy is the son of a coach who grew up in the film room studying and teaching position specific drills and techniques related to offensive line, tight ends, wide receivers, running backs and option QB/s including many all conference/district players. His extensive coaching experience includes stops at UNK, Colorado Mesa University, and two high schools in Nebraska.
Brett Newcomb
Newcomb was a standout QB, FS and special teams at Cambridge High School where he was a four year letter winner while compiling a 48-1 career record, three consecutive state titles and part of a state record 48 consecutive wins. Brett was also a standout basketball and track athlete.
Mike Caputo
Mike Caputo attended the University of Nebraska at Lincoln as a redshirt walk-on with the Cornhuskers, and ended up as a starting center for the Huskers by his junior year. While with the Huskers, Caputo started in 27 games, was named to the All-Big Ten Second Team and was a finalist for the Burlsworth Trophy.
After college Mike participated in NFL mini-camps with the Minnesota Vikings and New Orleans Saints in 2012, played for the Omaha Nighthawks and received another invite from the Vikings in 2013. Coach Caputo was a grad assistant for UNL as a part of Bo Pelini's staff, and has coached for Midland University.