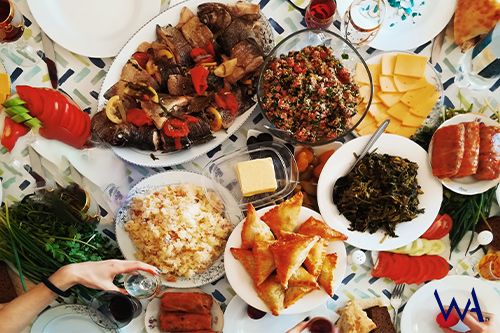 The holidays are here, and I think we can all agree, the time between Thanksgiving and New Year's Day can wreak havoc on our diets. Grandma always knew how to make the perfect corn and macaroni casserole that tastes more delicious with each bite. The goodness did not stop there! She had to try to top herself with sweet potatoe pie and a mouth watering new side dish every year.  
As bad as you want to stick to your diet, you convince yourself, it is only a few cheat days, what can it hurt?
Well, unfortunately it does chip away at the body.  That doesn't mean you can't still enjoy the unique holiday flavors that send your taste buds on vacation. A few pieces of pie doesn't necessarily mean you have to spend extra hours at the gym. Instead, consider these activities as a way to balance out your uncontrollable cravings.
For starters, cooking and holiday preparations are calorie burners alone. Two hours of cleaning the house and decorating can chip away at 476 calories, prepping the holiday feast can amount to 340 calories, and it may not seem like it, but eating is a calorie burner too, up to 102 even. These few activities alone might help ease the mind when it comes to having that second piece of fudge.
Snow has been light lately, but as we dive deeper into fall and then winter, a few activities outside can burn some major calories. Shoveling snow can be quite the workout. An hours worth of shoveling snow can burn over 350 calories. Bring the kids outside to join you and have a snowball fight, start up a football game, make some snow angels or find a big hill to sled down.  Burning calories and making memories is a win-win for everyone.
Now that the afternoon has settled and the first round of food is put away, get out of the house.  Take a trip to the closest ice rink, 90 minutes of skating can burn almost 600 calories, and if you're more adventurous, there is always skiing too.
As the night draws to a close, head to a neighborhood that is known for going all out with their Christmas lights. A stroll through the neighborhood can pluck off those extra carbs from the biscuits you shoveled in. Maybe you can even expend some energy with your vocal chords and entertain your neighbors with some caroling.  
If there's no time to stroll the streets because you haven't done any of your holiday shopping yet, no worries. Shopping from store to store can help you burn around 275 calories per hour.  I bet you don't feel so bad hitting those black Friday deals now, do you?
So this holiday season, don't fret too much about indulging in the treats, there are simple ways you can make up for the calories and still have fun too.

DREAM, one of the Midwest's well-known youth mentoring organizations, provides life-changing and life-enriching experiences to at-risk youth through mentoring and after-school programs in Omaha, Nebraska, and Springfield, Missouri. Their proven approach puts children in a comfortable setting where they're encouraged to discuss openly, learn, and grow as individuals. Are you interested in getting involved with DREAM? Contact us today.