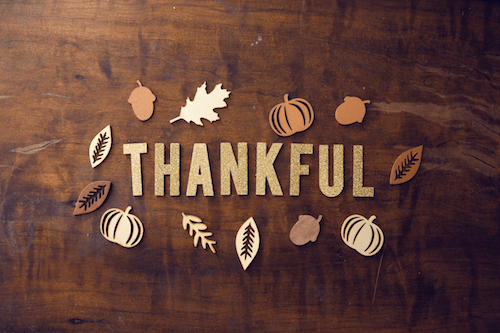 Can you smell it? The faint scent of turkey, mashed potatoes and pumpkin pie drifts through the air this week, as we all gather around our family and friends to celebrate Thanksgiving. The holiday of Thanksgiving has a long and often conflicting story throughout U.S. history, but throughout the years one thing has remained the same: the season of gratitude. 
With such busy lives, it can be difficult to slow down and take time to feel thankful for what we do have. However, Thanksgiving marks an important season for all of us to take a moment and remember the little things in life—and every little thing we're thankful for. If you want ideas for how to feel grateful this week, here's a list of seven things to feel thankful for this Thanksgiving.
1. Sense of Safety
Many people throughout the world and even within the United States do not have a secure sense of safety this Thanksgiving. If you feel safe where you live, where you engage in the community and who you interact with, consider how fortunate you are to not live in fear this holiday season.
2. Good Health
Our health is one of the most important things to recognize and take care of in our lives. Without good health, we can't move forward with much else. If you wake up this week with air in your lungs, medicine on the shelf and no pain in your body, take a moment to feel thankful for the good health you have.
3. Faithful Family
Without our family, many of us would not be where we are today. Whether you're single and live miles away from your nearest relative, or you're married with a house full of children, feel grateful for your family this season, and recognize how they formed you into the person you are.
4. Strong Friendships
Of course, for many of us, our friends are actually more like family than some relatives. Strong friendships get us through the hard and good times, and often shape us into better people. Use this week as an opportunity to consider the impactful friendships you have in your life, and if you have a chance, reach out to those friends and tell them thanks.
5. Loving Animals
Maybe you're not really a "people person," but are more of an "animal lover." Give thanks for the furry—or scaley, slimey or feathery—friends in your life by recognizing all of the love they have to offer this Thanksgiving.
6. Job to Work
We know, we know—jobs can often feel like more of a chore than something to feel thankful for. But, without work, many of us would struggle to feed ourselves, afford a home and even support our families. Many unemployed people long for a job to work, so if you find yourself employed this Thanksgiving season, take a moment to feel grateful.
7. Place to Call Home
Finally, if you have a roof over your head and a place to call home this week, feel thankful. People throughout the world do not have a permanent place or home, so let the feeling of gratitude seep into your heart. Better yet, see who you can invite into your home to celebrate Thanksgiving with this year.
As we go about our lives, we often get caught up in the things we want, and forget about all of the little things we already have. Thanksgiving is a remarkable time to sit down and think through everything we have in life to be grateful for. Use this list as a start, then see how many things you can add. Not only will you have a great Thanksgiving because of it, but you'll end up feeling happier for weeks to come.