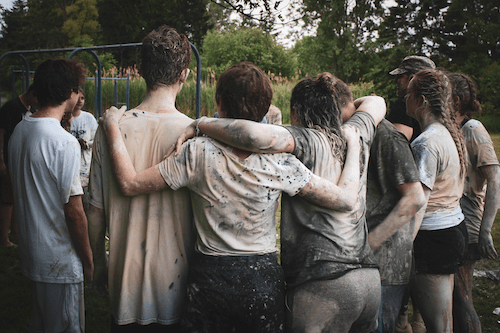 Whether you're young, old or somewhere in the middle, everyone has something they can bring to the table and improve the community. One age group in particular which can truly help and benefit from volunteering is teenagers. Teenagers are at a critical point in their development, so engaging them in volunteering is a great way to expose them to different areas of the community—and show them the impact they can have. 
Not only can volunteering help the organizations teenagers work with, but it can actually help the students, as well. Volunteering can teach valuable life skills, communication techniques and even instill an innate motivation to serve. However, teenagers aren't always eager to get out there and get involved. Sometimes, inspiring them to take action can be challenging. If you have a student in your life who you want to serve the community, here are some tips for how to encourage teenagers to volunteer with a cause they care about.
1. Show them the purpose.
First, show teenagers the purpose behind the action. Oftentimes, schools will offer extra credit or even require volunteer hours from students. While this is a great way to get students exposed to volunteering, it often does nothing to show them the genuine purpose behind serving. Instead, make sure teenagers understand the impact of volunteering by explaining how the work makes a difference. For instance, watch a documentary, introduce them to a staff member with the nonprofit or even walk through how the organization impacts the community. By showing them the purpose behind volunteering, teenagers will feel more encouraged and engaged.
2. Give them independence.
Nobody likes it when someone is constantly checking in on them. Teenagers are the exact same way. Make volunteering enjoyable for them by giving them their own independence and autonomy whenever possible. Let them make their own decisions and choices about what organization to work with, when or even how to get involved. Giving them independence during the volunteering process will show them you trust them, and they will naturally take on more responsibility in response.
3. Lead by example.
This one is simple: if you want teenagers to volunteer, then you should be the first to lead by example. Although teenagers might not always be the best listeners, they do watch and mimic the actions of the adults in their lives. Be sure you are consistently volunteering and giving back to a cause or organization you care about in the community, in order to show your teenager how it can tangibly fit into their daily lives.
4. Get social.
There's no doubt about it: we live in a social world, and teenagers are at the forefront of this new, social technology. If you want to encourage teenagers to volunteer, then you have to meet them on their level—by getting social. Post pictures on your Instagram story, ask them to tweet about their experience or Snapchat friends while volunteering. Volunteering doesn't have to be boring; instead, you can help teenagers have fun by encouraging them to get social and invite others in on the experience of volunteering.
5. Provide positive feedback.
Finally, no one wants to do work if they don't feel appreciated in return. When teenagers do volunteer, be sure to provide plenty of positive feedback, affirmation and recognition. Thank them for the work they did and talk through how they made a tangible difference for someone else. By recognizing the teenager's efforts, you can encourage them to keep coming back and continue volunteering.
Volunteering is a valuable part of anyone's life, but it can play an incredibly impactful role for teenagers. Use these tips to encourage the teenagers in your life to get involved in the community and give back through volunteering. Not only can volunteering benefit their lives now, but it can also create positive habit which will influence them for years to come.