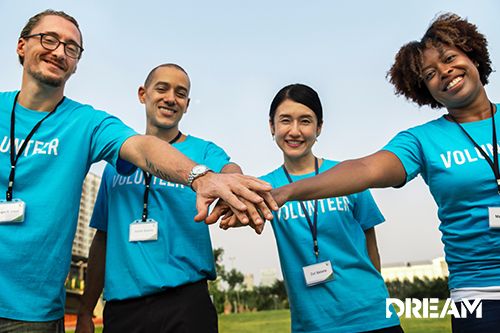 Kids say the the funniest things sometimes. They can have big and crazy ideas that sometimes as parents we brush off.  As parents there are times we don't believe our kids can really reach for the stars, although they definitely can. The fact of the matter is, children can be an inspiration too. No matter how old they are.
Full of passion and optimism, some of the most inspirational kids on the planet have started nonprofits to help change the world. With the hopes that they will inspire your kids too, here are some nonprofits started by children to help inspire yours.
The Ladybug Foundation was started by a five year old girl named Hannah Taylor. When Hannah saw a homeless man eating out of a garbage can, she decided to take action. By eight years old, Hannah had founded the Ladybug Foundation which helps homeless men and women find refuge. The organization has raised over two-million dollars across Canada. Hannah continues to work everyday to provide shelter, food and safety for homeless people.
At age nine, Austin Gutwein was watching a video showing children who had lost parents to the AIDS virus. Knowing that he could help make a difference, Austin decided to shoot free throws on World AIDS Day back in 2004 to help raise awareness. The nine-year-old  raised nearly $3,000 that day to provide hope, food, clothing and shelter to eight different orphaned children. Now, Hoops for Hope is the biggest basketball shoot-a-thon in the world and Austin has helped raise over $3-million for children who have lost parents to AIDS. It's grown so big, thousands of people and teams from all over the world are now taking part in the event to help children in need.
When Caine Monroy was just nine years old, he turned his father's store into a cardboard arcade, and a video of the project went viral online. That was the beginning of the Imagination Foundation. Now the organization is dedicated to fostering creativity in kids across the world. Their programs are designed to inspire and make it easy for everyone, everywhere to play a role.
Alex Scott was diagnosed with cancer just before her first birthday. When she was four years old she decided she wanted to raise money so that doctors could help other kids the same way they helped her. That's when Alex decided she wanted to have a lemonade stand to get things started. With the help of her brother, Alex raised $2,000! Unfortunately Alex passed away when she was eight years old, but by the time she passed, she had raised over $1-million dollars to help find a cure for cancer. Alex's family continues to help support the great work she started by setting up Alex's Lemonade Stand Foundation. They have now raised $75-million dollars to fund more than 375 cutting-edge research projects.
DREAM, one of the Midwest's well-known youth mentoring organizations, provides life-changing and life-enriching experiences to at-risk youth through mentoring and after-school programs in Omaha, Nebraska, and Springfield, Missouri. Their proven approach puts children in a comfortable setting where they're encouraged to discuss openly, learn, and grow as individuals. Are you interested in getting involved with DREAM? Contact us today.