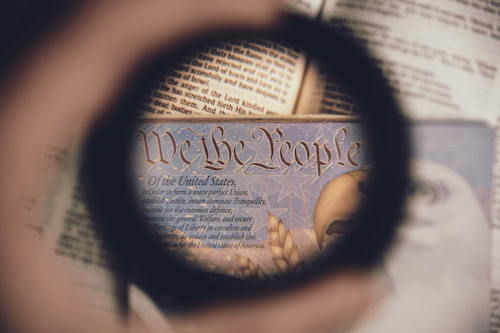 Happy Constitution Day! In the words of former President James Madison, "We the People of the United States, in Order to form a more perfect Union, establish Justice, insure domestic Tranquility, provide for the common defense, promote the general Welfare and secure the Blessings of Liberty to ourselves and our Posterity, do ordain and establish this Constitution for the United States of America." If these words sound familiar to you, then you might know a little bit about the United States Constitution.
Constitution Day is a U.S. national holiday which observes, recognizes and celebrates the United States Constitution, which was formally signed at the Constitutional Convention on September 17, 1787. Two hundred thirty-one years later, the Constitution is still an active document for our country. So, how can you celebrate and honor this historic day? Here are some ideas for commemorating Constitution Day.
1. Read the Constitution.
What's one of the easiest ways to commemorate Constitution Day? Reading it, of course! Take time today to sit down by yourself or with friends and family to read through the U.S. Constitution. More often than not, Americans know very little about one of the founding documents for our country. Instead, be proactive about learning and researching this valuable, historic document. Read through the Constitution, take notes when you can and learn more about its cultural and social implications for the time period then and now.
2. Take a Constitution quiz.
Once you've read the Constitution, have some fun with it by taking an online Constitution quiz, or hosting a Constitution trivia contest. If you have kids, this is a great way to get them involved and active in learning history. Even without children, see who in your friends or family would be interested in learning more about the Constitution and having a friendly competition with trivia or a quiz. Search online for constitutional trivia questions and answers, or develop your own for an even better quiz experience.
3. Share the Constitution with others.
Speaking of getting others involved, why not use today as an opportunity to share the Constitution with others around you? Many U.S. citizens have never read the Constitution, and don't know what its content entails. Instead, help make a difference in your community by inviting others to read the Constitution together. Print out copies or order small constitutional pamphlets to pass out and share with those around you. In fact, getting others to explore more and learn about their nation's history is an incredible altruistic act to have in your life.
4. Learn about our Founding Fathers.
If you truly want to honor this Constitution Day, learn more about the Founding Fathers who contributed so much to our nation. While none of the Founding Fathers were perfect, we can all learn something from each and every one of them. Do a little research on the Founding Fathers to learn more about how the United States originally developed. While you may have learned a bit about the Founding Fathers while in school, it's always a great option to explore and research our nation's history on your own.
5. Check for events in your community.
Finally, celebrate Constitution Day with others near you by checking for events going on in your community. Plenty of towns, cities and counties across the country host programs and events to commemorate Constitution Day, so see which ones are available near you and how you can get involved. Who knows? Perhaps you could even volunteer with an event and really have an impact in your community. Our nation's history matters, and it's important we all play an active role in remembering it for the future.
Constitution Day is here, and it's the perfect opportunity to learn, remember and honor our nation's history. If you want to live an altruistic lifestyle, try out some of these tips to learn how you can celebrate Constitution Day, and build a better nation every day.