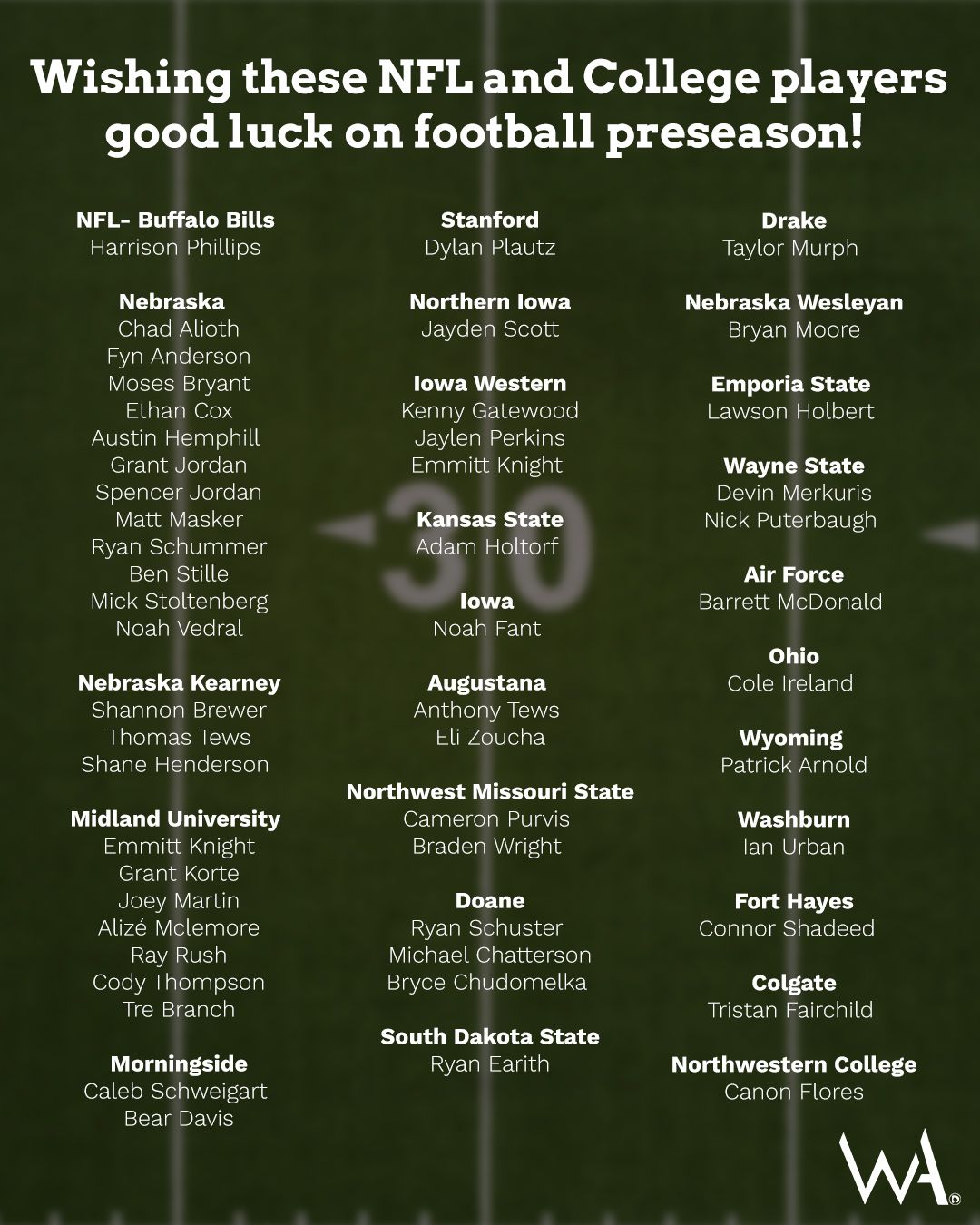 Our athletes are amazing! On behalf of D.R.E.A.M, we would like give a huge shout out to a number of our Warren Academy athletes. These athletes put in the hard work and dedication it takes to make it to the collegiate and professional level.
We can't wait to see what you accomplish!
Buffalo Bills
Harrison Phillips
Phillips plays defensive tackle for the Bills. He graduated from Stanford in 2017 after leading the Cardinal with 103 tackles as a team captain his senior year. Phillips was the 96th overall draft pick by the Bills in 2018.
Chad Alioth Jr.
Alioth Jr. of Omaha is a wide receiver for the Cornhuskers. He was a two-way performer at Omaha North High School and was part of a state championship team during his senior season with the Vikings.
Fyn Anderson
Anderson is a Lincoln native that has excelled on and off the field while at Nebraska. He earned Academic All-Big Ten honors in 2017 as well as being a part of the Brook Berringer Citizenship Team and the Tom Osborne Citizenship Team.
Moses Bryant
Bryant was a part of the Omaha World-Herald's Super Six Team and was an All-Nebraskan defensive back selection in 2017. He is Nebraska's 11-man football all time record holder with 105 career touchdowns!
Ethan Cox
Cox is a redshirt freshman from Blair. He appeared during spring practice as a contender for playing time during the Nebraska secondary as cornerback. Cox also played basketball, baseball and ran track for Blair High.

Austin Hemphill
Hemphill had a strong high school football career at Gretna High School. He spent the past three seasons as fullback, but transitioned to running back for the Huskers in 2018. He was also on the Nebraska Scholar-Athlete Honor Roll.

Grant Jordan
Jordan was an outside linebacker and tight end for Omaha Westside from 2012-2015 where he helped the Warriors appear in two state playoff appearances. He has appeared on the Nebraska Scholar-Athlete Honor Roll for four years. Jordan will be a linebacker this fall as well as contributing to the Huskers' special teams units.
Spencer Jordan
Jordan is an Engineering major that plays for the Cornhuskers as inside linebacker. He is joined on the roster by his twin brother, Grant, who also plays linebacker. Their older brother, Harrison, also played for Nebraska as a fullback until 2017.
Matt Masker
Masker is a Kearny native that threw more than 7,000 yards and 86 touchdowns as quarterback for Kearney Catholic High School. As a two-time all-state selection, Masker was on the Omaha World-Herald All-Nebraska second team as a senior and represented the South Squad in the 2018 Nebraska Shrine Bowl.
Ryan Schummer
Schommer will join the Cornhuskers this year after graduating from Norfolk High School where he played defensive end and linebacker. He also played basketball for Norfolk and represented the North Squad in the 2018 Nebraska Shrine Bowl.
Ben Stille
After graduating from Ashland-Greenwood High School, Stille had offers from Army, Iowa, Iowa State, Ohio, Vanderbilt and Wyoming, but only visited Nebraska. He emerged as one of the Blackshirts' top players in 2017, leading Nebraska with 10 tackles for loss and 3.5 sacks while earning Academic All-Big Ten honors. He was also Big Ten Freshman of the Week and on the BTN All-Freshman Team.

Mick Stoltenberg
Stoltenberg is a senior defensive lineman. He was a part of CoSIDA Academic All-District 7 and was recognized as a Big Ten Distinguished Scholar. This 6-5, 315-pound powerhouse is one of the most powerful players on the team and also provides the Nebraska staff with a respected, veteran leadership mentality.
Noah Vedral
Vedral is originally from Wahoo, Nebraska and transferred to the Husker program for the second semester in the spring. Vedral must sit out the 2018 season under NCAA transfer guidelines, but will have three seasons of eligibility left starting in 2019. He is a second-generation Husker following his father in the '90s and had three uncles earn letters at Nebraska.

Nebraska Kearney

Shannon Brewer
Brewer is a wide receiver for the Lopers after graduating from Creighton Prep. Last season he had 47 receptions for 829 yards and completed 10 touchdowns. He will also run track for UNK.

Thomas Tews
Tews is a tight end right shirt freshman from Concordia High in Omaha. In 2017, he was on the MIAA Academic Honor Roll and made 22 catches for 397 yards and 6 touchdowns in high school.

Shane Henderson
Henderson is a defensive lineman for the Lopers. He is originally from Elkhorn, Nebraska and attended the University of Wyoming where he walked on. He missed some time due to injuries, but appeared in 9 games with 6 tackles, and had three stops in loss at Washburn.
Midland University
Emmitt Knight
Knight is a running back for the Warriors. He is majoring in Criminal Justice and is originally from Chicago, Illinois. He has rushed over 240 yards and is sponsored by Reichert Family Dentistry.

Grant Korte
Korte is a freshman middle linebacker that previously attended Concordia High School. He is majoring in Business Administration and is sponsored by Korte Lawn Care and Carlson Financial.

Joey Martin
Martin is cornerback for the Warriors and went to Omaha Northwest High School. He has played 9 games with 24 solo sacks.

Alizé Mclemore
Mclemore is a 6'5, 350lb senior for the Warriors. He plays outside linebacker and is majoring in criminal justice. He previously attended Iowa Central Community College but is from Omaha originally.

Ray Rush
Rush is a freshman cornerback majoring in Human Performance and Athletic Training. He is previously from Omaha and is sponsored by Tamara Bailey and InSearch, Inc. He went to Northwest High School.

Cody Thompson
Thompson is a sophomore outside linebacker from Concordia High School. He is sponsored by Thompson Roofing and has appeared in 3 games. He went 25 yards on his kickoff return in the 2017-2018 season.

Tre Branch
Brand is a junior defensive back majoring is Business Administration and Management. He is from Omaha originally and went to Northwest High School.

Morningside College

Caleb Schweigart
Schweigart is a freshman wide receiver from Omaha Westside High School. He will play as #89 on the field for the Mustangs.
Bear Davis
Darnel Davis Jr. is a freshman for the Warriors that is originally from Omaha. He plays wide receiver and went to Burke High School.

Cole Irland
Irland is a freshman outside linebacker from Ashland-Greenwood High School. He led his team to 2 State Championships in 2013 and 2014. He will be sporting #75 for the Bobcats this season.
Wyoming
Patrick Arnold
Arnold is a freshman from Omaha that went to Gretna High School. He redshirted last year as a freshman and after a lot of spring practice will be ready to lead the Pokes offense. He was ranked #9 overall recruit in the state of Nebraska from the 2017 recruiting class.
Washburn University
Ian Urban
Once an Omaha Skutt Catholic Skyhawk, Urban is now a fullback for the Washburn University Ichabods. While as Skutt, Washburn was named all-state and was part of the winning State Championship Team as a Sophomore.
Fort Hays State University
Connor Shedeed
In his Junior year, Shedeed is sure to be a standout player. As a defensive back for the Tigers, Shedeed played in all twelve games of his Freshman and Sophomore year. He is originally from Gretna, Nebraska.
Colgate University
Triston Fairchild
Originally from Papillion, Nebraska, Fairchild is now a tailback for the Colgate Raiders. He is in his junior year with the Raiders, and during his 2017 season, he was the recipient of the Gordon Watson Scout Team Player of the Year. He is also the nephew of former NFL cornerback Ray Crockett, who starred on two Super Bowl-winning teams with the Denver Broncos.
Northwestern College
Canon Flores
Flores is a wide receiver for the Northwestern College Red Raiders. Flores is originally from Gretna, Nebraska. During his 2017 season, he played played in six games as backup wide receiver and was a letter winner. Flores plans to major in Sports Management.