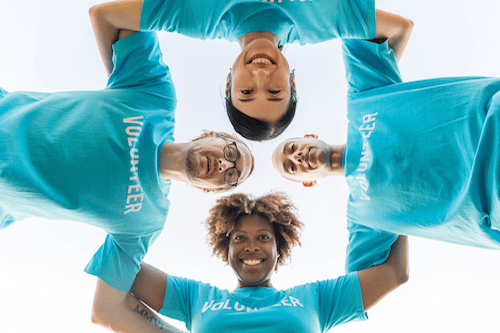 When it comes to living an altruistic life that can help make a difference for others, one of the most valuable things you can give the community is the gift of volunteering. No matter where you choose to volunteer, serving is an extremely impactful gift you can provide.
However, not only can volunteering be beneficial for others, but it can be extremely rewarding for you as well. If you're considering volunteering with a cause you care about in the community, consider the benefits you can receive. Here are the top eight benefits of volunteering.
1. Make new friends.
What better way to increase your socialization in the community and meet new friends than by getting involved with a cause you care about? By volunteering with a nonprofit organization, you can meet fellow individuals who share your interests and make new friends.
2. Build your network.
Alongside the new friends you make through volunteering, you also get the opportunity to build your professional network. Like they always say: it's not what you know; it's who you know. Volunteering with an organization gives you the perfect chance to meet professionals in an area you're interested in who can help you further your professional and career goals.
3. Expand your resume.
Speaking of building your network, with the connections, skills and experiences you gain through volunteering, you can also further expand your resume. With a strong resume which demonstrates your volunteer efforts, you can appear as a more well-rounded individual and help earn a new career.
4. Improve your confidence.
As you grow in your volunteer position, you can also improve your confidence and self-esteem. Particularly when teens or young adults volunteer, they develop a stronger sense of self and self-worth through the value of work they commit for others.
5. Develop emotional stability.
With new friends, better confidence and a deeper sense of purpose, volunteering can even help develop stronger emotional stability. For instance, one study found in The Balance stated when people with OCD, PTSD or anger management struggles volunteer, they feel more connected to others. This connection and meaning can decrease symptoms and improve social function.
6. Feel happier.
Volunteering helps to end loneliness, build bonds and even improve mental health—all of which leads to feeling happier. When you commit time and effort to improving someone else's life, you might be surprised at how much joy reflects back into your own life.
7. Learn something new.
If you get involved with volunteering for an organization, chances are you will have the opportunity to learn something new through your experiences. If you enjoy expanding your horizons and gaining new skills, volunteering is the perfect way to go.
8. Explore your interests.
Finally, no matter what you're interested in, chances are there's an organization out there you can connect with. Whether you have a deep passion for serving refugee families, helping children in the foster care system or serving with animals, you can explore your passions, skills and interests all while volunteering to serve someone else.
When it comes to volunteering with a cause, there are a variety of different reasons to get involved. These top eight benefits are only a few of the gifts you can receive back from serving in your community. Get involved with a cause you care about to see what benefits you can enjoy from volunteering with others.