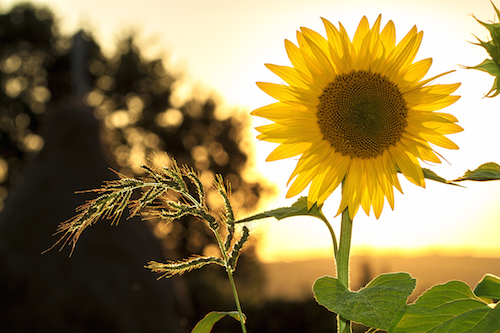 Ah, springtime. As the sun begins to peep out from behind the clouds and the snow starts to melt away, the month of March brings with it just a hint of the upcoming spring weather, soon to be followed by the warm embrace of summer. And what goes better with celebrating springtime than a captivating bouquet of flowers?
Which brings us to March 12th, or as some like to call it, National Plant a Flower Day! Every year, people across the United States celebrate today by planting their favorite flowers as they look forward to the upcoming springtime. And with more than 400,000 different known flowering plant species around the world, they have a lot of options. National Plant a Flower Day is the perfect start to the new season, so if you want to get involved, there are a few ways to join. Here's how you can give back today.
Start your own garden.
What's the easiest way to celebrate Plant a Flower Day? By planting flowers, of course. If you haven't had the chance to start a garden yet, take today as your first opportunity. Choose flowers, plants or even fruits and vegetables to get started and really round off your first beautiful garden. Or, if you're already a consistent gardener, enjoy today by planting new or different flowers in your own garden. Give back today by helping out new gardeners with tips, tricks or extra bulbs or seeds you might have. No matter where you are in the gardening process, today is the perfect day to try something new.
Help at a community garden.
If you don't have the space, time or resources to maintain your own garden, consider helping out at a community garden nearby. Lots of neighborhoods and nonprofit organizations offer and maintain community gardens, whether they include fruits, vegetables or flowers. Check out your neighborhood to see what community gardens are close by, and see how you can get involved today and into the spring season.
Try out a local greenhouse.
Of course, sometimes the weather can still be a little unpredictable in March. If the weather gets too chilly to work with a garden outdoors, try out a local greenhouse for the indoor gardening experience. Most greenhouses stock plants that grow well in the area, and serve as a great way to try out gardening and learn a bit more about plants along the way. See what greenhouses are near you and how you can get involved. Continue to ask questions and shop there frequently if you do start your own garden.
Give a bouquet away.
If you're not able to plant a flower today or this season, fret not. There are still ways to give back with National Plant a Flower Day by giving a bouquet away. Buy locally-sourced flowers from floral shops in your area and give them away to someone you care about today. Whether it's your significant other, your mother or someone in need, you can brighten someone's day by giving them a beautiful bouquet of flowers.
Get involved in conservation efforts.
Finally, the best way to celebrate National Plant a Flower Day is by making sure there are more to come in the future. Help keep the planet safe so future generations can enjoy the flowers we love by getting involved with conservation efforts in your community. Start recycling at home, opt for a reusable water bottle and eat locally-grown foods to help give back to the earth that has given us so many beautiful flowers.
As Ralph Waldo Emerson said, "The earth laughs in flowers." Today, enjoy National Plant a Flower Day by trying out some of these tips. See how you can get involved today, this month and for years to come by supporting nature's laughter.