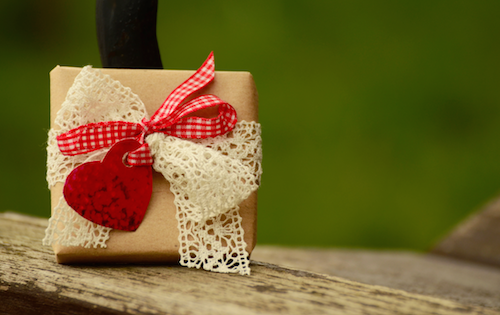 'Tis the season of giving! As the air gets colder, our hearts become warmer, as we give gifts to friends, family and even the occasional strangers. There just seems to be something about the holiday season that fills us with merriment and cheer.
Maybe it's the delicious hot chocolate that warms us up from the inside out. Maybe it's the music we listen to and all of its upbeat melodies. Or, maybe it's the notion that giving to others has actually been proven to make us happier. How, exactly? As we dive into the season of giving this month, let's explore how the very action of giving can lead to a more altruistic life, improve our mood and even makes us happy.
Spending money on others makes us happier.
Not only is the holiday season a huge opportunity for giving gifts to loved ones, but it's also a great time to donate gifts to nonprofits and organizations in need. And here's the thing: science has shown time and time again that money can't buy happiness. But, spending money on others actually does make us feel happier. As Anne Frank once said, "No one has ever become poor by giving."
One study conducted at Harvard Business School by professor Michael Norton found this quote to be entirely true. Norton questioned 632 people on their income level and what they actively spent money on. He also asked them to rate their own happiness. Afterwards, the study found that, regardless of income earned, the individuals who spent more money on others were decidedly happier than those who spent more money on themselves.
Generosity creates community.
Next up: generosity creates community. Since the dawn of time, humans have been notoriously communal beings. We're social. Over generations, we have survived and thrived because we care for one another as a unit. Therefore, in many ways and across many years, giving to others has actually been a survival tactic. We give because we know that it helps society, and hope that one day when we need support, someone else will give to us.
This survival tactic may be why giving increases our happiness hormones. In fact, one study even found when we donate to a charity, our brains respond similarly to eating chocolate. With fMRI technology, researchers can now see brain activity while conducting different actions. Researchers found that when participants gave to a charitable cause, the midbrain region of the brain lit up. This area is responsible for our pleasure rewards, demonstrating the link between giving and pleasure.
Serving others also serves us.
Finally, when we serve others, we also serve ourselves and improve our own well being. In the 2010 Do Good Live Well Survey, 4,500 participants were asked a series of questions. Forty-one percent of Americans said they volunteered an average of 100 hours per year. Of those who volunteered, 68 percent reported feeling physically healthier, 89 percent stated it improved their sense of well being and 73 percent said they felt it lowered their stress levels. Even more than donating, volunteering with a cause or organization we care about can literally make us feel healthier and happier.
This holiday season, give gifts and time to your friends, family and even strangers in the community. You may find that it ends up making you just as happy as it makes them.