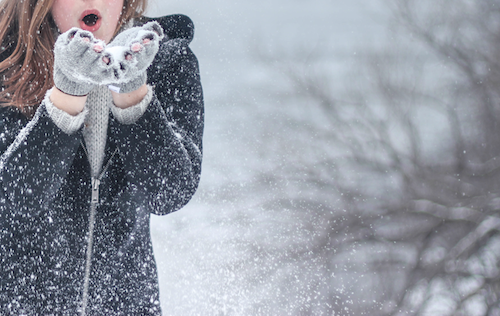 Soon, the cold winter season will be among us, as we bundle up underneath our coats and watch our breath blow away in the wind. Winter can be a harsh season for many of us, from the long hours without sunlight to the freezing cold feeling in our toes. The next few months can definitely be difficult, but luckily we can all support each other.
With Thanksgiving behind us and the winter holidays coming up, how can you make others feel warm during the cold season? We have some ideas to get you started. Check out our list of seven ways to give warm winter wishes this year.
1. Scrape someone's windows.
If you live in an area where winter gets very cold very quickly, then you know the struggle of scraping car windows after an overnight frost. This winter, you can make someone's day by offering to scrape their windows for them. Maybe it's an elderly friend or just someone you care about. Whoever it is, taking the time to go out and scrape their windows can have a huge impact on brightening their day and making a winter wish come true.
2. Shovel a neighbor's sidewalk.
When snow starts to pile up, there's nothing more frustrating or difficult than shoveling out a sidewalk. Help out the neighbors in your community by offering to shovel or plow their sidewalks. You'll have the pleasure of helping those near you and making someone's day, plus the added bonus of getting a good workout in. If snow is common in your area, give altruistic shoveling a try.
3. Pay for a stranger's coffee.
If you live in a warmer climate where snow tends to be a rarity, fret not! You can still grant warm wishes this winter. Next time you go to a cafe or restaurant, try paying it forward and pay for a stranger's coffee in line. Coffee embodies everything about the coziness of winter, so you can cheer someone up this season by giving coffee as a gift.
4. Leave a kind note.
For a cheaper alternative to coffee, leave a kind note for someone you care about. Maybe that means writing a letter to loved one and telling him or her just how much they mean to you. Or, maybe it means leaving behind a "pick-me-up" note on a stranger's car, just to put a smile on their face. Notes can have a huge impact on warming us up from the inside out. Try leading a more altruistic lifestyle this winter with a note.
5. Make a goodie basket.
Goodie baskets are always a treat for the person receiving them. Whether you give a large or a small goodie basket doesn't matter—the joy is in the giving. Put together some tasty treats or a cozy winter welcome package for your neighbors, friends, family or coworkers to make everyone's winter a little bit warmer.
6. Provide some warm clothing.
Unfortunately, lots of friends and family in the community don't have warm enough clothing for the season. But, you can help change that by giving any new or gently used winter clothes you can provide. Maybe that means handing down your coat from last year, or picking up an extra pair of gloves next time you're at the store. Whatever it is, giving winter clothing is a useful way to provide to those in your community.
7. Give to a cause.
Finally, you can help warm up a lot of people's winters by giving to a cause you care about this season. You can give your time, resources or finances and support those in your community by living a more altruistic lifestyle. This winter, see what you can provide and the difference you can make through giving.
Winter can be a cold, challenging season to get through; but if we all stick together, it doesn't have to be. Try out some of these altruistic ideas this year to grant warm winter wishes for the people in your life.