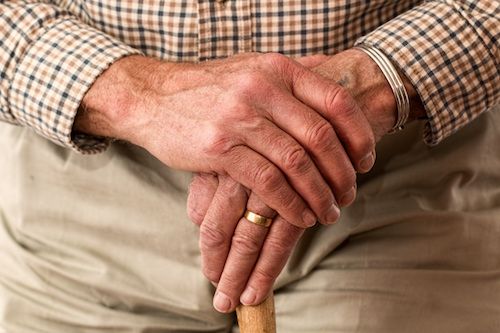 Happy August 21st, or as we like to call it, National Senior Citizens Day! National Senior Citizens Day is an entire day dedicated to recognizing and celebrating the contributions of our nation's senior citizens. Whether it's your parents, grandparents or a loved one, today is the day to show your appreciation for the lives they've lived.
How can you celebrate National Senior Citizens Day? We're glad you asked. We have some ideas on how to honor senior citizens today, this week and for more times to come.
1. Reach out to those in your life.
First and foremost, celebrate National Senior Citizens Day by honoring the elderly members of your life. Reach out and connect with them today either in person, over the phone or (for the tech-savvy) online.
Oftentimes for the elderly, living on their own or in a community space can end up feeling lonely, so connecting with their friends and family members is a great way for them to be involved and feel appreciated. Take some time today to reach out, engage and build a positive relationship with the mature friends and family members of your life.
2. Volunteer at a retirement home.
Retirement homes are always looking for volunteers to help entertain, engage with or even care for their residents. What skills and talents do you have to offer? Often, these might be something as simple as the skill of conversation.
Volunteering at a retirement home shows you care about the senior citizens in your community. Not only will it help improve their day, but it can improve yours as well by building new relationships and having positive interactions with others.
3. Visit a hospital.
For those elderly citizens who might not get to spend today or many days with their friends and family members, see how you can get involved by visiting and volunteering with a local hospital. Cheer someone up by bringing little treats, offering care or just having a conversation. Today and every day, you can brighten up a senior citizen's life by comforting and encouraging them during a difficult time.
4. Find a hobby to do together.
If you're looking for a fun and rewarding time together, find a hobby you can do alongside a senior citizen in your life. Whether this is playing the piano, working on a puzzle or any other number of things doesn't matter—the most important thing is you have fun together.
Try learning something new or, better yet, teaching something new to embrace a different experience. Hobbies are an awesome way of connecting people across generations, so see what you can do with the elderly loved ones in your life.
5. Research your family history.
Finally, celebrate National Senior Citizens Day by researching your own family history and learning about your heritage. What better way to honor the elderly among us than learning more about those who have gone before? Research and outline your family history for a surprise gift to a senior family member, or for your own benefit at home. See what you can find out and celebrate today by remembering the past.
This August 21st, embrace your mature friends and family members by honoring National Senior Citizens Day. Try out some of our ideas to celebrate today, and keep it going throughout the week and into the rest of the year.