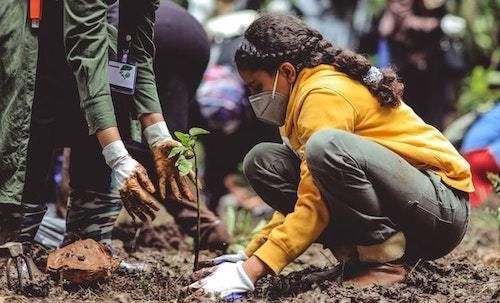 As back-to-school comes barreling back into our lives, so does the opportunity to do good for the world. There are a variety of ways you can be conscious of helping the environment all while getting your fall shopping done (fall is right around the corner!). Plus, this is the perfect time to remind yourself of ways that you can help the environment. When it comes to our world, it's always a good time to check in with how we can love it back for providing us with a home all these years. Check out some ideas below to help protect the one place we all call home—earth!
Shop Sustainable
Both clothes and school supplies are back-to-school staples. However, there are some ways that are smarter to shop than others. Use this as an opportunity to invest in recycled goods, sustainable clothes and more. Paper supplies are one of the easiest items to find that have been recycled for your back-to-school shopping. When it comes to clothes, invest in quality pieces that are made sustainably instead of "fast-fashion," which are often cheaply made and end up as waste. In addition, you can shop second-hand to help others' clothes avoid being thrown out.
Plant Trees
Find a school or community hotspot and consider planting trees. Arbor Day may be in April, but you can use the fall as a time to give back to your community. Start a new tradition where every new fall and new school year means you give new life to a tree. Think about years later when you can come back and visit, reflecting on planting your trees and how much they've grown! 
Educate Others
Sometimes the best gift you can give is the gift of education. Find opportunities to talk with your friends, family and peers about how you can help love the environment. Research statistics to help them understand why it's so important. For example, did you know that there is an estimated 51.2 BILLION pieces of litter along the United States roadways?! That's a ton of harm to our planet. Use research to help your family and friends understand why they should care.
Volunteer in Your Community
Teamwork makes the dream work! Gather a group of friends or neighbors to help spruce up your community. Whether it's mending broken fences or picking up trash in your neighborhood, there are plenty of ways to give your community a facelift and also do good for the planet. This is a perfect way to get your children involved, or a group of friends. 
Recycle
The most obvious way to help the environment is to recycle as much of what you use as possible. Don't forget to also reduce your amount of waste on a daily basis and to reuse where possible. Reduce, reuse and recycle are the three "r" words to remember! Recycling efforts can vary largely depending on where you live, so make sure to check with your local community on what can and cannot be recycled. Then, set up different bins in your home to collect the recyclable goods. 
It's important to check in with yourself and your habits, especially when it can help the world around us. Use "back-to-school" as a time to see how you can help reduce, reuse and recycle this year, along with giving back to your community and the world. If you have children, teach them how to shop sustainably and continue to educate them. The more our children know, the more they can help us protect our planet moving forward. After all, they're our future!