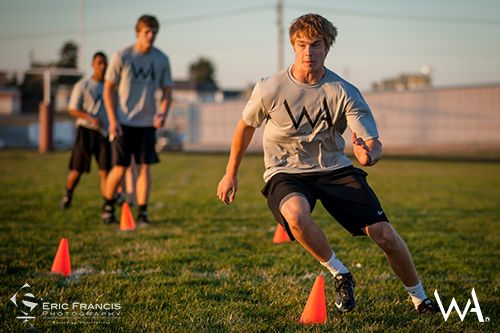 We have been so busy this year. Between our strength & conditioning camps, 7v7 team and the opening of our brand new facility… we need a moment to catch our breath. Can you believe another school year has come and gone? Where did the time go?
For the entire month of May we are running a special for unlimited classes on all programs, with the exception of yoga, at both our Millard and Gretna location.
Our strength and conditioning off-season, pre-season or in-season training programs help athletes of all levels shore up weaknesses, decrease injury risk, and build strength and explosive power. Depending on the age level of your athlete, we focus on the following strength and power components to help develop athletic performance:
Free Weight
Multi-functional
Ground Based  
Pushing, Pulling, Squatting
High Force & High Velocity Movements
Strength Training
Many who don't exercise regularly or are new to the world of fitness think strength training is only associated with more experienced athletes. That couldn't be further from the truth. There are so many physical, health and mental benefits to strength training.
Not only does strength training increase your physical work capacity, it also improves your ability to perform daily living activities. Strength training improves bone density and is one of the best ways you can control bone loss as you age. It promotes fat-free body mass with decreasing sarcopenia. As we age, the lean muscle mass we work hard for can begin to decrease.
Speed & Agility
Speed and agility training involves the increase in muscle power through both speed in starting and stopping function. Each exercise becomes faster with an explosive force behind each repetition, making speed training ideal for power lifters and athletes who run and perform agile movements.
There are many other benefits to speed and agility training that include reaction time, balance, and coordination. In addition, being quick with proficient speed and agility can build confidence that will lead to better performance. While young athletes are growing up, it's important to work on these skills, as building a solid foundation of athletic abilities and motor skills allows the child to develop sport specific skills in a balanced and healthy way.
Once your athlete establishes a foundation, they can enjoy their physical activity and progress in their sport as far as they choose to go. All of these aspects are important for all sports in their own way.
Our program will:
Reduce injury
Increase lean muscle
Improve confidence
Enhance performance
Our programs run Monday through Thursday at 4:30, 5:30 and 6:30. Please join us!
DREAM, one of the Midwest's well-known youth mentoring organizations, provides life-changing and life-enriching experiences to at-risk youth through mentoring and after-school programs in Omaha, Nebraska, and Springfield, Missouri. Their proven approach puts children in a comfortable setting where they're encouraged to discuss openly, learn, and grow as individuals. Are you interested in getting involved with DREAM? Contact us today.