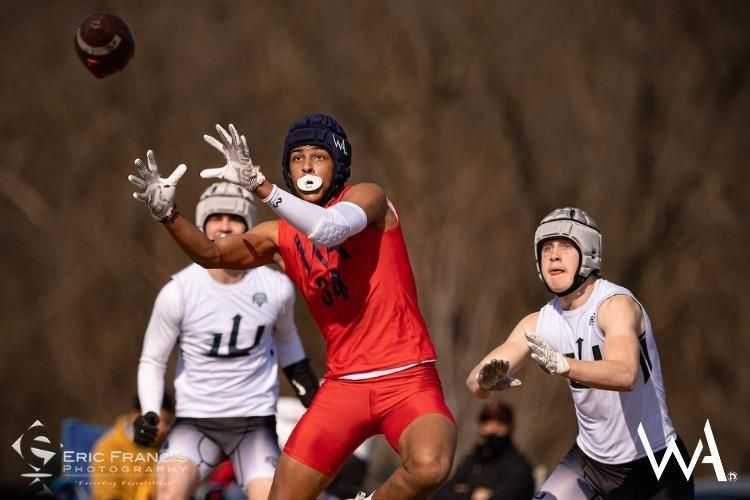 State football ended last week, and we first want to say congratulations to the teams who won, as well as all the athletes who worked hard all season and fell short. Now, the offseason has finally arrived once again, and it's time to begin working towards next season's goals. During the offseason, football players work hard in the weight room, getting bigger and faster every chance they can. However, football athletes should also be improving their football skill set during the offseason. 
7v7 is one of the best ways for football players to continue improving their game year round. At Warren Academy, we have 7v7 teams that travel across the country to play athletes of similar skill. Our 7v7 teams practice and attend many tournaments during the winter and spring months, and we are focused on helping all of our athletes improve. In the coming weeks, we will be holding 7v7 football tryouts to fill our travel teams. Below, we explain why you should play 7v7 this offseason! 
7v7 is a fun yet competitive way for football athletes to continue playing the game they love during the offseason. With only 7 players on each side of the ball, 7v7 is great practice for quarterbacks, running back, receivers and tight ends, defensive backs and linebackers. At the high school level and up, many teams run 7v7 drills during their regular football seasons almost every practice session, mainly to help these skill position players learn the playbook and practice new sets. During the offseason, there are many 7v7 tournaments across the country that bring together the high school football top athletes to compete against each other!
Recruiting exposure
One big benefit of playing on a 7v7 team during the offseason is the exposure to college coaches. When you travel to tournaments, college coaches are sadly not allowed to attend due to NCAA rules. However, many of these coaches watch highlight films and try to find top prospects to join their team. When it comes to recruiting, the more film the better!
One of the best ways to get better at anything is repetition. Offseason 7v7 involves just that! When you play on a 7v7 team, you will have practices and tournaments where you will be doing the same thing over and over and over again. Repetition is one of the best ways for football players to take their game to the next level, improve their awareness on the field and overall gain a better understanding of the game. 
Travel 7v7 tournaments are awesome because you get to compete against others you usually don't get to compete against. At Warren Academy, our 7v7 teams play teams from Kansas City, Des Moines, Oklahoma City, and many other areas where competition is just as good if not better than Nebraska. This helps athletes evaluate where their game is at right now and how they compare to others their age. Also, a little competition is one of the best ways to stay motivated and work towards your goals! 
Conditioning
Lastly, doing something is better than doing nothing. Doing more is also better than doing the minimum. 7v7 may not be as intense of a workout as weight training or speed training, however, it helps football players stay in shape and stay used to the on-field conditioning that football requires!

Overall, 7v7 allows players to take their game to the next level, learn new skills and gain more recruiting exposure. If you want to join a 7v7 team this offseason, we will be holding 7v7 football tryouts in the coming weeks. Be sure to check out our website or give us a call to learn more about our 7v7 travel teams!